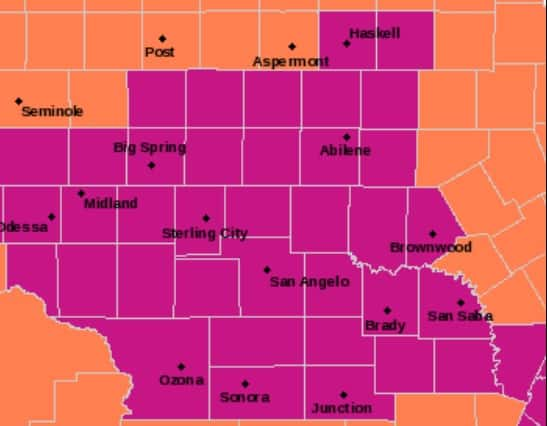 The San Angelo National Weather Service has issued an Excessive Heat Warning for Brown, Coleman, McCulloch, San Saba, Callahan and other counties in the Abilene and San Angelo areas through 7:00 pm on Monday, July 13.
All counties west of Brownwood are under the Excessive Heat Warning through Monday at 7:00 pm, possibly beyond that.  Dangerously hot conditions with high temperatures in the 105 to 110 degree Fahrenheit range are predicted.
Counties east of Brownwood are in a Heat Advisory, temperatures still over 100, more humidity, very uncomfortable.
Extreme heat will significantly increase the potential for heat related illnesses, particularly for those working or participating in outdoor activities.
Take extra precautions if you work or spend time outside.
When possible, reschedule strenuous activities to early morning or late evening.
Wear light weight and loose fitting clothing when possible.
Never, ever leave children or pets alone in enclosed vehicles, not even for a few minutes.
Make sure pets and livestock have a good supply of water.