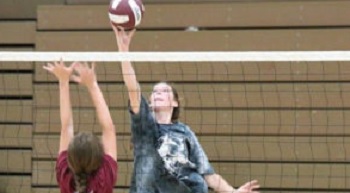 The Brownwood Lady Lions volleyball teams will take part in an intrasquad scrimmage at Warren Gym on Friday afternoon.
Second-year head coach Allison Smith stated earlier this week that 36 girls reported to practice. Friday's scrimmage will feature four teams – Maroon, Brownwood, White, and Lions – consisting of those players.
The scrimmage schedule features Maroon vs. Lions and Brownwood vs. White from 3 p.m. to 3:45 p.m. Then, from 3:45 to 4:45 p.m., the matchups will feature Brownwood vs. Lions and Maroon vs. White.
The revised schedule for the Brownwood Lady Lions volleyball team will find them opening the regular season at 4 p.m. Friday, Aug. 14 at Lake Belton. A first-year high school in the Belton ISD made up of just freshmen and sophomores, Lake Belton will reside in District 19-4A. The Lady Broncos are coached by former Howard Payne volleyball player Liz Ramsey.
The home opener for the Lady Lions is scheduled for Tuesday, Aug. 18 against Class 3A Dublin.