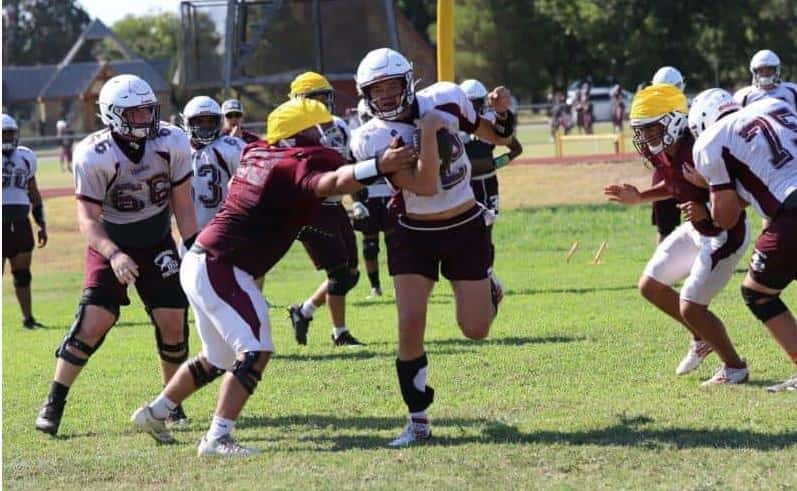 The 2020 Brownwood Lions football team put on full pads Friday morning to finish up their first week of practice.
Coach Sammy Burnett was not only pleased by what he saw in the physical aspects, but the mental approach is also meeting, if not exceeding, early expectations.
"We have a good group of kids that are going to be physical, but more than that their minds are leading their bodies," Burnett said. "We're putting a lot on them defensively with every formation we can throw at them and today we threw in some motion and they adjusted. We even putting in sets they haven't seen and they lined up properly. The mental part is huge. To me, that's 90 percent of the game and the other 10 percent is the physical, but they're applying both. That's going to get give us the opportunity to get where we want to be over the course of time."  Burnett again reiterated the senior class has stood out early on in terms of leadership.
The second week of preseason practice usually ends with the first scrimmage, but this year that will be different due to the new COVID-19 guidelines imposed by the UIL. Brownwood will treat next week as normal, however, with the lone exception being an intrasquad scrimmage Friday night.
"We're going to treat next week as if we're having a scrimmage, and there will be a Maroon vs. White scrimmage instead of scrimmaging Salado," Burnett said. "It'll happen one day early, we're choosing to do it Friday instead of Saturday to give our kids one more day to recover over the weekend. We're going to start with our freshmen at 6 p.m., the JV will follow about 6:45 p.m., and our varsity will take the field around 7:30 p.m."