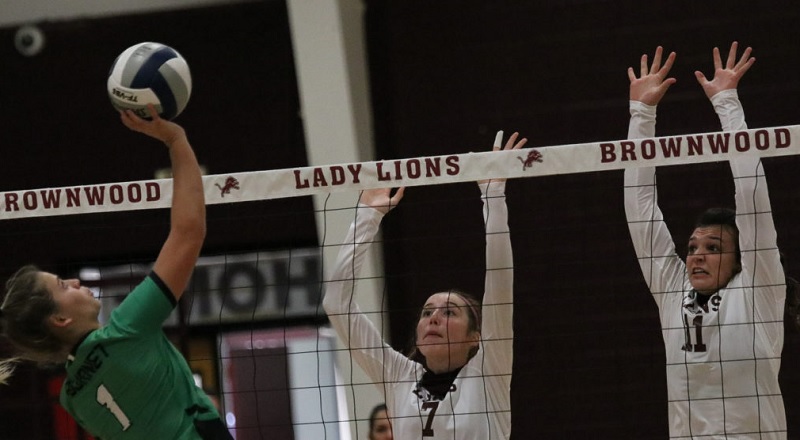 The Burnet Lady Bulldogs have proven to be a nemesis for the Brownwood Lady Lions on the volleyball court.  Burnet beat Brownwood last Friday at Warren Gym and beat them again in Burnet on Tuesday night.  The Lady Lions dropped a 25-21, 22-25, 25-23, 22-25, 15-8 decision.
Katelyn Windham tallied 12 kills to pace the Brownwood offense followed by 10 from Ashlyn Storm, nine from Olivia Fowler, seven from Jaylen Savage, five each from Kylie Morris and Tessa Goodwin, four from Gracie Boswell and one by Caitlyn Moody.
Goodwin distributed 46 assists while Moody and Becca Church were credited with one apiece.
Fowler's four aces were a team-high followed by Savage with three, Goodwin with two, and Boswell and Windham with one each.
Moody logged 49 digs trailed by Windham with 23, Fowler with 22, Church with 16, Boswell with 12, Goodwin with nine, Savage with six, Morris with three, and Storm with two.
Savage tallied six blocks, Storm added four, Morris and Goodwin collected two each and Windham chipped in one.
Brownwood (6-3) is off until next Tuesday, Sept. 15 when the Lady Lions face San Angelo Central and Abilene Wylie in San Angelo beginning at 6 p.m.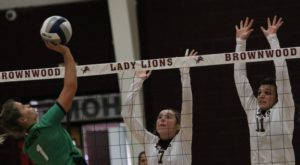 Photo and story courtesy Derrick Stuckly of BrownwoodNews.com – Tessa Goodwin (7) and Ashlyn Storm (11), pictured in Friday's match against Burnet, go up for a block.