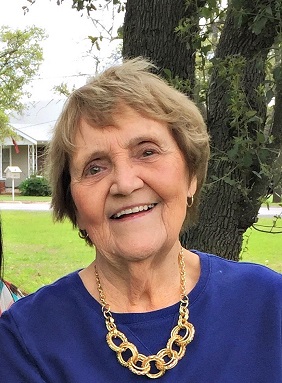 Beatrice "Bea" Woods gained her heavenly angel wings on Thursday, September 17, 2020, at the age of 87. She will forever be in our hearts.
Funeral Services for Bea will be held at 11:00 a.m. Monday, September 21, 2020, at Blaylock Funeral Home Chapel with Artie Woodcox officiating; burial will follow at Jenkins Springs Cemetery.
Visitation will be held Sunday afternoon from 3 to 5 p.m. at Blaylock Funeral Home. Arrangements are under the direction of Blaylock Funeral Home of Brownwood.
Beatrice Imogene (Udell) Woods was born June 2, 1933, in Rockland Wisconsin, the 2nd child of Elva (Rhines) Udell and Arthur Udell.  The family soon moved to Sheboygan Falls, WI, where she attended school and graduated high school in 1951. From there she attended and graduated from St. John's School of Nursing diploma program in Springfield, Illinois. During this time, she met her future husband, Bill Woods, and they were married in November 1957.
Bea spent 37 years in the nursing profession that she loved; from working in the ER and holding many different positions throughout her career including: Floor Staff Nurse, Operating Room Circulating Nurse, Surgery Supervisor, Assistant Director of Nurses and Director of Nurses. She retired from Brownwood Regional Medical Center in 1992, then went on to home health for a few years before retiring completely. Bea was well respected in the medical community.
Bea and Bill travelled the world through the years; Europe, China, Mexico, and all across the US in their travel trailer.  Bea had friends from all over the world and never met a stranger. She was definitely the life of the party.
Bea is survived by her children, Wendy Beard and husband Tommy, Lisa Gonzales, Karla Woods, and Bill Woods; grandchildren, Chris Aguirre and wife Melissa, Jennifer Larson and husband Justin, Stephanie Villalpando and Kenny Lewis, Michael Villalpando and wife Kayla, Hannah McGilvery and husband Cody; great-grandchildren, Christian, Cadynce & Presley Aguirre, Ramona Garcia, Jocelyn Villalpando, Dahlia & Emberlyn McGilvery, and Reid & Elise Larson; and sister-in-law, Laverne Loman. She is also survived by several nieces, nephews, and her many friends.
She was preceded in death by husband of 49 years, Bill Woods; her parents; brother, Robert Udell; and son-in-law, Albert Gonzales.
Special thanks to her caregivers Bryttanie, Laura, Kim, Kelley and Cara for their care and compassion. Many thanks to Dr. Amy Tindol for her care and compassion through the years.
Fly high mother, you are whole and healthy now.
In lieu of flowers, donations to your charity of choice. Online condolences for the family are welcome at www.blaylockfuneralhome.com.