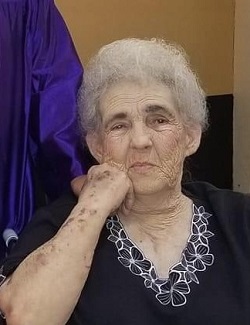 Carolyn Isabel Whittle, 75 of Brownwood, passed away on Thursday, August 20, 2020.
A Celebration of Life service will be held by the family 11 AM Saturday, October 3rd, 2020 in the Clear Creek Cemetery, 5677 County Road 180, Brownwood, Texas.
Carolyn was born to Ima Louise Hoffman and Joseph Makuta on February 10, 1945 in Brownwood.  She attended Brownwood High School and lived in the area all her life.  Carolyn worked at Brownwood Manufacturing and sewed zippers in the military uniforms that were made local.  She loved her job and talked often about how her hands would hurt from sewing so many a day.  Carolyn never met a stranger, she always talked to people at the grocery stores, restaurants and mart about any little thing she found interesting.  She always had the greenest plants in her house and yard.  She had a green thumb that she did not pass on to her children.  Carolyn loved her kids with every fiber of her being and they never doubted that.  She loved all her grandkids & great grandkids and they all loved going to grandma's house because she spoiled them rotten.  Carolyn had many friends in the community.  She volunteered her time at the old salvation army, serving the community.  She went to the Branding Iron restaurant for visiting and would clean the tables for her own enjoyment to help out.  You never left her sight without a hug and a kiss on the cheek, she will be greatly missed.
Carolyn is survived by her sons, Joey and his wife, Michelle Browder of Bangs, Terry Browder of Early; and a daughter, Michele and husband Mark Halk of Early; 9 grandchildren and numerous great grandchildren.
Carolyn was preceded in death by her parents, several brothers and a sister.
Online condolences, tributes and memorials can be shared with the family at www.heartlandfuneralhome.net