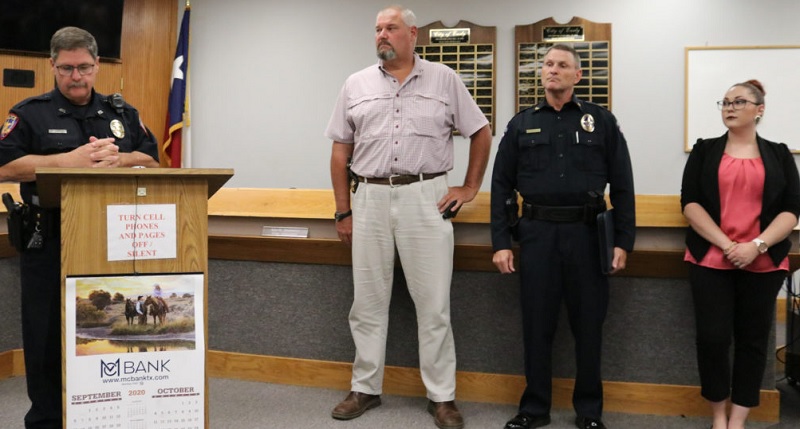 Left to Right:  Early Police Chief David Mercer, Brown County Chief Deputy James Stroope, Brownwood Police Chief Ed Kading and Crystal Wyatt with the Children's Advocacy Center at Thursday's press conference. (photo courtesy of Brownwoodnews.com)
EARLY – A press conference was held Thursday afternoon at the Early Police Department as local law enforcement addressed the growing concern of online solicitation of minors and child trafficking.
Early Police Chief David Mercer said local law enforcement officials have received an abundance of feedback since the arrest of Ronnie Jackson on Sept. 17, who was charged with the attempted kidnapping of a 4-year-old girl.
"It's been brought to our attention that many people have been concerned since that happened," Mercer said. "Local parents and families have been very edgy about the safety of our kids in our cities and county. Cases like these are not common here but they do happen."
James Stroope, Chief Deputy with the Brown County Sheriff's Office, said social media plays a big role in child trafficking.
"With everything going on and with computers being issued at such a young age, children having cellular devices, it seems we keep going back to Snapchat as the hot topic for the exploitation of children," Stroope said. "We've worked some cases here in the county, along with the Brownwood Police Department, DPS and Homeland Security utilizing social media pertaining to child trafficking. That's something as parents we need to be diligent about – checking our children's devices," Stroope said.
Some of the more common Apps being used are Kick, Meet Me, Me/We, Snapchat, Instagram and Facebook Messenger.
Crystal Wyatt with the Children's Advocacy Center offered a variety of tips to parents and guardians to help keep an eye on their children and the digital fingerprint they leave.
* Teach your children not to trust so easily. We're making communication with people on social media, we're not really talking with people face to face anymore. Just because they meet someone online it doesn't make them their friend.
* Teach your children and yourself, if someone is offering you a job or promising you something that's too good to be true, it probably is.
* Collect all bed time devices. You're a parent and you're responsible for those devices. Take them up, make yourself well aware of who your kids are talking to, what they're doing online, what apps they have. This is never going to be invasion of their privacy, this is your job to keep them safe.
* Always trust your instincts. If you have a bad feeling about something, it's always better to be safe than sorry.
Brownwood Police Chief Ed Kading said, "The way our society in the country has been the last several months, it's time we have some of these hard conversations and talk about the safety of our children and our vulnerable populations. If you see something, if you know something, you've got to say something. We have to re-engage as a community and watch out for our kids."