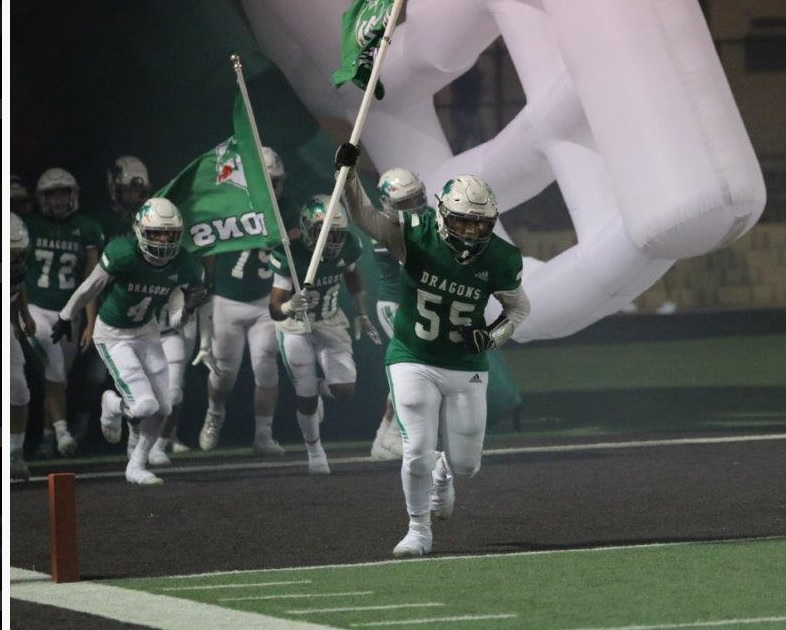 The Bangs Dragons had their season come to an end Friday night at the hands of the Canadian Wildcats, 56-13, in Region I-3A Division II area playoff action.  The Wildcats have been a thorn in the side of the Dragons.  Bangs also lost to Canadian last year in the first round of the playoffs, 66-21.
On the offensive end, the Dragons were limited to 289 total yards – 189 through the air and 100 on the ground. Prior to Friday's outing, Bangs had produced 44 points and 465 yards per game on average.
Ethan Sanchez, coming off his Mr. Texas Football performance of 440 rushing yards and seven touchdowns in Bangs' last on-the-field outing against Brady, was limited to 40 yards on the ground by Canadian. Guy Powell and quarterback Ethan Cortez tacked on 31 yards rushing apiece.  Through the air, Cortez connected on just 6 of 20 passes but averaged 31.5 yards per completion, including two for touchdowns. Brayton Wedeman led the way with two catches for a team-high 74 yards and one score.
"We've come a long way since last year, but they just strike so fast on offense," Bangs Head Coach Kyle Maxfield said. "Even after seeing it last year in person, they started the game again in NASCAR mode on offense and got us on our heels and we just didn't recover. We could have spit the bit at halftime, but we played with pride. Canadian is No. 1 for a reason, but we definitely closed the gap on them even if it doesn't show on the scoreboard. That's a credit to our kids and what they've done this past year."
Canadian (11-1) raced out to 28-0 lead before the first period ended and carried a 49-6 advantage into the locker room at halftime.  The Wildcats finished with 583 yards of total offense – 389 passing and 194 rushing – with most of that damage done in the first two quarters. At intermission, Canadian had racked up 487 total yards.
In reflecting on the campaign, Maxfield said, "It was a 10-win season for us, and any time you can have a 10-win season and get to the second round from where we've been, we're still taking steps forward. I'm proud of our seniors and I told them after the game they put Bangs back on the map and I'm proud of what they were able to accomplish."
Canadian advances to face Idalou (10-0), a 49-0 winner over Alpine Friday night.
(story courtesy Derrick Stuckly, Brownwoodnews.com)