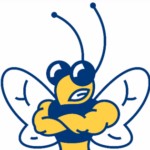 The Howard Payne Lady Jackets defeated Dallas Christian College 90-58 Monday night at the Brownwood Coliseum.
Three Lady Jackets finished in double figures – Lily Janek with a team-best 14 points, Bria Neal with 12 and Delaney Ingram with 10. Also scoring for HPU were Catlyn Ward and Kayla Brigance with seven each; Chelsey Harris with six; Payge Grable and Trinity Johnson with five apiece; Amanda Turpin and Michayla Chaffin with four each; Mallory Garcia, Anastasia Matthews and Trynadee Greenwell with three apiece; Salina Ali, Kendra Brown and Ariel McKoy with two each; and Haley Arledge with one point.
Howard Payne shot 51 percent (32 of 63) as a team, 36 percent (10 of 28) on three-pointers, and 59 percent (16 of 27) at the free throw line. The Lady Jackets also owned a 52-45 edge in rebounds, scored 40 points in the paint, and forced 26 turnovers which led to 23 points.
Howard Payne's next game is on the road at Belhaven at 1 p.m. Saturday.
(story courtesy Derrick Stuckly at Brownwoodnews.com)