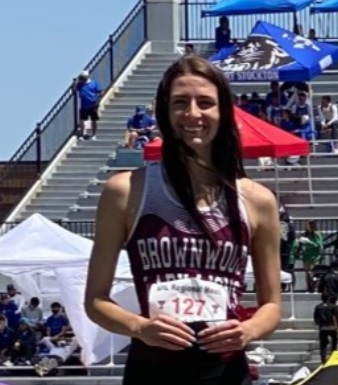 Brownwood Lady Lion Kylie Morris on Friday finished second in the girls triple jump to advance to the State Track Meet in Austin on May 7-8.
Morris, who won the 5-4A/6-4A area championship, jumped 36-11.25 which trailed only Glen Rose's Kylie Frush (37-0.5). Morris comfortably outdistanced third-place Tania Lee of Burkburnett (35-8-25) as the top two finishers in each event automatically advance to state.
The only other event in which finals were held for Brownwood competitors on Friday was the boys triple jump, where Jackson Yoder placed 15th with a best effort of 39-5.
Running preliminaries also took place Friday with Becca Church advancing to the finals in the 110-meter hurdles with the seventh-best time of 16.63. Kynslee Walker also came in seventh in the 400 meters (1:01:03) to reach the finals. Church will run at 3:05 p.m. Saturday and Walker will take the track at 3:50 p.m.
Also competing in finals Saturday will be Christian Kinzler in the boys high jump at 9 a.m.; Emma Stegemoller and Walker in the girls 800 meters at 2:45 p.m.; Michael Felts in the boys 800 meters immediately after the completion of the girls race; and Stegemoller and Felts in the girls and boys 1600 meters, starting at 4:40 p.m.
Other Friday preliminaries results for Brownwood included the boys 4×200 relay of Jake Jetton, Taylor Bessent, Nathan Wheelington and Jason Jackson (1:31.85) coming in ninth and just missing out on a spot in the finals; and Zach Bond placing 14th in the boys 110-meter hurdles with a time of 17.05.
(story courtesy of Derrick Stuckly of Brownwoodnews.com)