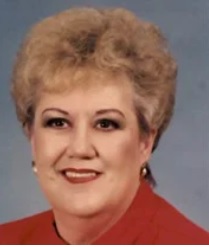 Nancy Ann Hodges, 79, of Brady, passed away on August 18, 2021 at her home surrounded by her children.
She was born in San Angelo, Texas to Willie Watt and Nettie Christine (Phelps) Cowart on September 15, 1941.
She married Vestal Martin Hodges, Jr. on January 10, 1959, in San Angelo, Texas. They later moved to Brady in October of 1973.
Her love for people led her to meet many dear friends throughout her life, one being Louise Densman. They enjoyed their friendship with a kindred spirit like "Lucy & Ethel". Neither ever met a stranger, always sharing a laugh and warm smile with others.
She had a natural artistic ability and loved to draw and paint, as well as write beautiful poetry.
She was baptized in September of 2001 as one of Jehovah's Witnesses and her love for Jehovah God was beyond measure. She always yearned for the knowledge of Jehovah and found comfort in His promises including the future of a beautiful paradise here on Earth. (Psalm 37:29)
Her grandchildren and great-grandchildren filled her heart with a special love that no other could provide.
Nancy was preceded in death by her husband, both parents, and one brother Willie Robert Cowart.
She is survived by her children, (Rusty) Vestal Martin Hodges III, Brenda Kay Hodges, Christi Hodges McAnally, and Dusty Wayne Hodges and wife Barbara, all of Brady; a brother, Charles Cowart of Coleman; four grandchildren, Adam Hodges, Benjamin and (Elizabeth) Hodges, Logan Hodges, and Katelin and (Shawn) Lucas; seven great-grandchildren, Kennedy, Kambri, Kaden, Kadence, Kenzie, Kreed and Christian.
A memorial service will be held at 2:00 PM on Saturday, August 28, 2021, at Heritage Funeral Home Chapel in Brady, Texas. A private family graveside service will be held later. In lieu of flowers, memorials may be given to the charity of your choice.
The family of Nancy wishes to extend sincerest thanks to Solaris Hospice and staff, Destiny, Meggan and Debra. Also, to Joyce and staff at Elara Health Care. A special thank you to Lindy Harrington for all your love and support.
Funeral arrangements are entrusted to Heritage Funeral Home of Brady.