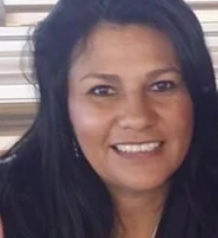 Pamela Gonzalez Baugh gained her angel wings and went to her heavenly home to be with Jesus and join Jonathan on September 22, 2021.
Pam was born December 10, 1964, in San Angelo, to Neve and Richard Gonzales. She attended Menard and Water Valley High Schools where she graduated in 1983. She pursued a degree in education at Angelo State and Western Governors Universities. She was a certified Instructional Support Paraprofessional. Pam married Bill Baugh on March 7, 1999.
Pam loved her husband, children, grandchildren, adopted children, parents, aunties, uncles, and friends. She was an avid sports fan, especially the Menard Yellowjackets, and never hesitated to share her expertise and opinions with the coaches and officials. She had a deep appreciation for the beauty of God's creations. She loved spending time at the beach and in the mountains.
Most of all, Pam loved her Jesus and wanted everyone to know Him like she did. She showed that love by endlessly lending a hand and opening her home any chance she could. She held the Menard Youth Fellowship in their home, sewing the love of Jesus into many kids in the community. She was unshakably dedicated to her husband, Bill. Her kids always knew the depth of her unconditional love. Pam was the best Nana ever and she was game for just about anything her kids and grandkids wanted her to do. They were absolutely perfect in her eyes. Pam was the rock of her family. She had countless "best" friends with all of whom she shared special relationships. She passed that special quality on to her beloved son, Jonathan, who impacted so many with the special relationships he fostered among his peers.
Pam is survived by her husband Bill of Menard, parents Neve and Richard Gonzales of Menard, daughter Jessica Balthrop and partner Samantha of Abilene, son Zane Baugh of Menard, daughter Whitney Baugh and fiancé Kevin Carlile of Menard, son Brody Baugh and fiancé Payton Dankworth of Menard, adopted son Jose Ruiz and wife Kristen of Ozona, brothers Ronald Gonzalez and Donald Gonzalez of Menard, mother-in-law Linda Stapp and husband Andy of Temple, father-in-law Aubrey Baugh and wife Linda of Menard, sister-in-law Susan Spencer and husband Mike of San Angelo, and brother-in-law Blake Stapp and wife Misty of Temple. She is survived by her grandchildren Savannah Baugh, Mason Balthrop, Kotie, Kylie, and Lydia Baugh, Porter Baugh, and Kaden, Trey, and Jonathan Ruiz. She is also survived by nieces and nephews Taylor and Tate Spencer, Caden Stapp and wife Jamisia, Brenden Stapp, Shay Gonzalez, Caleb Gonzalez and wife Bridgett, and great-nephews Casyn and Carsyn Gonzalez.
She is preceded in death by her grandparents Martha Gusto Gonzalez of Water Valley and Amelia and Slim Mediano of Mertzon, her son, Jonathan Burgess of Menard, and best friend Carla Castillo of Menard.
Visitation will be held from 6:00 to 8:00 PM on Sunday, September 26, 2021 at Heritage Funeral Home in Menard.
Funeral services will be held at 11:00 AM on Monday, September 27, 2021 at the Kothmann Ranch, 2499 Four Mile Road, Menard, TX 76859 with Kenneth Hyatt and Eric Kothmann officiating. Burial will follow in Rest Haven Cemetery in Menard.
Funeral arrangements are entrusted to Heritage Funeral Home of Menard.
Please view Mrs. Baugh's online memorial at www.heritagefuneralhomes.com