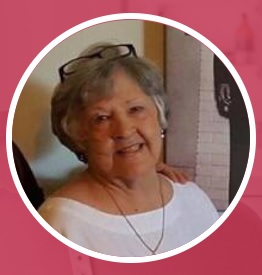 Carol Violet Marler Henderson, age 79, a long time resident of Voca, Texas was called to heaven on Tuesday, November 30, 2021 after an unexpected and sudden illness in San Angelo.  Carol was born on November 30, 1942 to Violet (Smythe) Marler and Herbert Marler in Brady, Texas, Carol grew up in Brady and attended Brady schools.  While working behind the fountain counter at City Drug Store in Brady, she met L.D. Henderson.  At the age of 18, she married L.D. on May 5, 1961 in the Parlor of the First Christian Church in Brady, Texas.  She moved to Voca and they were married for over 60 years.
She worked as a beautician for much of her life for several salons in Brady.  She valued her profession and her clients, most who had a standing weekly appointment.  She also worked for many years as a desk clerk at Best Western Brady Inn.
Carol, a very social and civic minded person, volunteered for many good causes and organizations throughout her lifetime including the March of Dimes, American Cancer Society, Voca Community Center, Voca Quilting Club, McCulloch County Chamber of Commerce, McCulloch County Historical Foundation, McCulloch County Helping Hands, Brady Chapter of the Daughters of the Republic of Texas, First Christian Church, First Presbyterian Church and others.  The example she set regarding public service provided her with much personal satisfaction.
Carol also enjoyed having a good time and spending time out of the house and with others. She attended several Bible studies around town, was member of several card playing groups and loved to attend game night.  She was a member of several birthday clubs and enjoyed playing in tennis and volleyball leagues when she was younger.
Carol's family proved to be her greatest achievement.  She loved her children, grandchildren, nieces, nephews and extended family.  She tried to teach them things and always expressed to them how she thought things should be.  She beamed with excitement and pride at their achievements and accomplishments.
Friends and family members are invited to come celebrate and honor Carol's life at her funeral at 11:00am, Saturday, December 4, 2021 at the Voca Community Center in Voca with Reverend Bun Jackson officiating and Reverend Stacey Evans assisting.  Interment will follow at the Voca Cemetery in Voca.
The family will receive friends Friday evening from 6 to 8 at Leatherwood Memorial Chapels.  Friends may view Carol's Memorial Video Tribute and/or sign her online memorial guest book at www.leatherwoodmemorialchapels.com.  Pallbearers will be Jean Jacques Alford, Carson Brown, Landon Brown, Le Henderson, John Stafford and Don Taylor.  Honorary Pallbearers will be Frank Teague, Joe Carriger, Murray Jordan, Rodney Bailey, Don Riley, Sam Johnson and Billy Ross Cavin.
Carol leaves to cherish her memory; her husband L.D. Henderson of Voca; son Ernest Henderson and wife Janey of Orange Grove, Texas; daughter Caroline Brown and husband Greg of League City, Texas; grandchildren Selena Henderson of San Antonio, Texas, Miranda Henderson of Alice, Texas, Carson Brown and Landon Brown both of College Station, Texas; her sister Mary Ann Marler of Brady, Texas; sister-in-law Shirley Henderson of Brady, Texas; nieces Vicky Roddie of Brady, Texas, Sheena Alford of Katy, Texas, Angie Garner of Brady, Texas, Jonna Kelly of Kilgore, Texas and nephews L.E. Henderson of Voca, Texas, Kenny Marler of Roundrock, Texas, and Ricky Marler of Montana.  She was preceded in death by her parents; brother J.L. Marler; nephew Derrick Young; mother-in-law Leah Henderson Johnson and brother-in-law Larry Henderson. Memorial contributions in memory of Carol Violet Marler Henderson may be made to Voca Community Center, % Ann Shussler, P. O. Box 7, Voca, TX 76887.