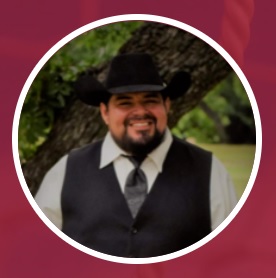 Alejandro O. Zapata, age 46, of Brady, Texas passed away Friday, December 3, 2021 in San Angelo, Texas.  Alex, as he was known by family and friends, was born April 24, 1975 in Mexico to Romero Zapata and Maria Cruz (Osorio) Zapata.  He graduated High School and had attended college.  He married Jessica Castillo on May 20, 2017 in Brady.  Alex worked as a welder at Southwest Fabrication in Junction for 14 years.  He moved to Brady in 2015 and has been working for Heart of Texas Restoration for the last couple of years.  He was a member of the Gateway Church in Brady.  He enjoyed playing golf, soccer, Bar-B-Queing, music and any activity that involved his friends and family.  He was a jokester and was always the life of the party.  He was a loving husband, father and had never met a stranger.
Funeral services for Alex Zapata will be held at 2:00pm Wednesday, December 8, 2021 at Leatherwood Memorial Chapels in Brady with Reverend Bartolone Garcia officiating.  Interment will follow at Rest Cemetery in Brady.
The family will receive friends Tuesday evening from 6pm to 8pm at Leatherwood Memorial Chapels.
Friends may view Alex's Memorial Video Tribute and/or sign his online memorial guest book at www.leatherwoodmemorialchapels.com.
Pallbearers will be Willie Nuncio, Roy Nuncio, Jesse Gruenewald, Adrian Ninõ, Clayton Johnson and Dylan Guerrero.  Honorary Pallbearers will be Adrian Solis, Kaden Solis, Joel Luna, Roger Guerrero, Robert Nuncio and Juan Marin.
Alex is survived by his loving wife Jessica Zapata of Brady, Texas; sons Adrian Solis of Brady, Texas and Kaden Solis of Brady, Texas; brothers Joel Luna of Tuscola, Texas; sister Dalila Zapata Osorio of Mexico and his father and mother-in-law Maurico and Elodia Castillo of Brady, Texas along with many friends and extended family.  He was preceded in death by his parents.  Memorial contributions in memory of Alejandro O. "Alex" Zapata may be made to Hope from the Heart, P. O. Box 1207, Brady, Texas 76825.