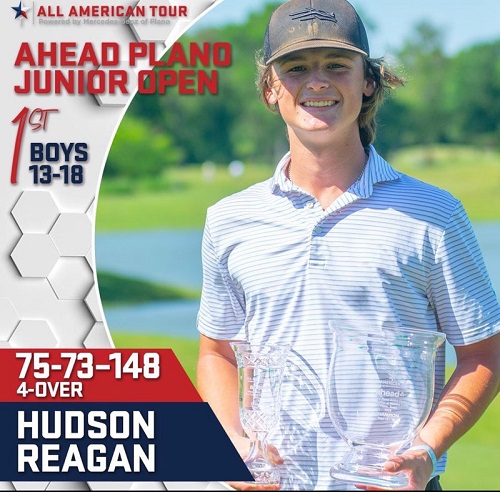 Hudson Reagan notched an impressive start to the summer golf season with a playoff win in a two-day, North Texas Junior All-American PGA tournament, played in Allen, Texas last week.
Reagan opened day-one with a three over par 75 on the extremely difficult Traditions course at Watters Creek Golf Club.  That opening round allowed him to gain valuable course knowledge, and he made good use of it, firing a one over par 73 on day two.
His two-day total of 148 placed him in a sudden death playoff with Carson Treadwell of Frisco and it took only two playoff holes for Reagan to claim victory.
The playoff started on hole #1.  Reagan wowed the field of spectators with a booming drive that split the center of the fairway on the first playoff hole.  Both players walked off the first green with pars.
Reagan followed up on hole #2 with another massive drive, leaving only a 56-degree sand wedge that tracked the pin like a laser.  His birdie putt was all he needed to claim his first win of the summer golf schedule.
Reagan is one-half of Brownwood High School's (BHS) super golfing duo that includes Sir Bubba Jones.  The BHS Lions captured this springs district golf championship and are expected to dominate next year's realigned district teams, including Stephenville, Glen Rose, Graham and Mineral Wells.
The BHS golf team appears loaded with talent for the 2022-23 season.  Returning seniors are Ethan Waldrop, Liam McNeese, Andrew Boren and Slayde Espinoza.  Reagan and Jones will return for their junior year.  Cobe Walker and Caleb Modawell return as sophomores.