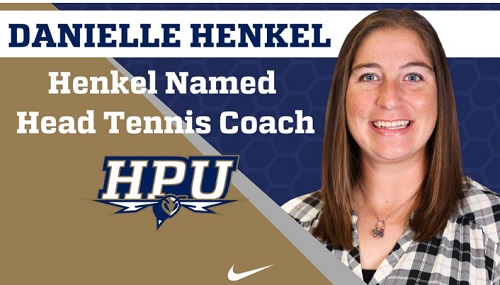 The Howard Payne University athletic department today announced the hiring of Danielle Henkel as the head coach of the women's and men's tennis teams.
While at Dallas Baptist University the past two seasons, Danielle helped guide the Patriot women's program to back-to-back winning seasons (14-6 and 14-12)
"We are excited to have Coach Henkel lead our tennis program!" said Hunter Sims, HPU director of athletics. "The HPU tennis program is on a great path forward and we are very confident that Coach Henkel will continue the progress. We have been very impressed by her passion to want to grow student-athletes spiritually as well as competitively through the game of tennis."
Coach Henkel joined the DBU tennis coaching staff in the Spring of 2021, prior to her arrival at DBU, she served as the women's assistant for a very successful Trinity University program in San Antonio, Texas.
During her time at Trinity, Henkel helped lead the women's team to a 29th national ranking by the Intercollegiate Tennis Association (ITA) during the abbreviated 2020 season.  Henkel also coached a women's doubles team, who captured the ITA Division III Southwest Region Doubles title in the fall of 2019. That duo qualified for the ITA Cup in Rome, Georgia, and tied for seventh place at the national event earning All-America honors in doubles for the second consecutive year from the ITA.
"I am so excited to get started at HPU," said Danielle Hankel. "I want to thank Hunter Sims and the administrative staff for allowing me this opportunity. I can't wait to see what God has in store for the men's and women's tennis programs. Sting'em."
Henkel was also an assistant for both the men's and women's tennis teams from 2017 to 2019 at Schreiner University in Kerrville, Texas. The Mountaineers men's and women's tennis teams each finished fourth at the 2019 SCAC Championships. Schreiner's women's squad also received national recognition after earning a 29th ranking in the ITA Division III West Region Poll.
A veteran teaching tennis professional, Henkel worked at the John Newcombe Tennis Ranch in New Braunfels, Texas, from 2009 to 2016 and was director of Newk's adult program in the summer of 2019.
Henkel played collegiately at the NCAA Division II level for the University of Missouri-St. Louis. Serving as a team captain for two seasons, Tritons advanced to the NCAA Division II Playoffs for the first time in school history during her senior season in 2014.
Henkel earned a Bachelor of Arts degree in psychology with a certificate in trauma from Missouri-St. Louis in 2014. She also holds a Master's degree in Sports Administration from Arkansas State University.