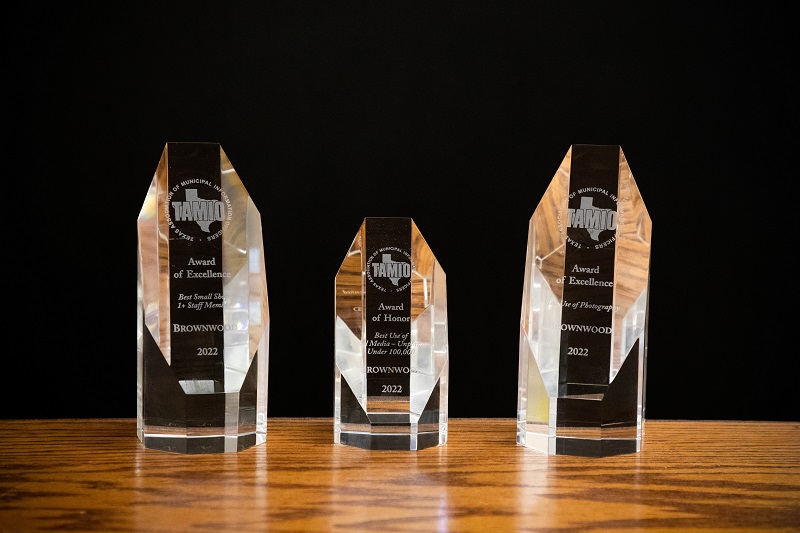 The City of Brownwood was recognized at the annual Texas Association of Municipal Information Officers (TAMIO) conference held in Houston earlier this month. The City of Brownwood received three prestigious awards, competing against larger cities. The TAMIO awards celebrate exceptional communication by Texas communities in a wide range of categories including website, social media, video production and publications. Judging is conducted by non-TAMIO members with expertise in communications and municipal government.
The City of Brownwood was honored to receive the following awards:
Award of Excellence – Best Small Shop 1+ Staff member. Other finalists included the City of Addison and the City of Seabrook.
The City of Brownwood does not yet have a formal communications department, but a small team of staff members is responsible for all City public information, communications, economic development, and tourism marketing. This is in conjunction with their other job duties in service to the community.
Award of Excellence – Best use of Photography. Other Finalists included the City of Round Rock and the City of McKinney.
The City of Brownwood received this award for the employee photo gallery featured inside City Hall near the Human Resource Department. The gallery features 20 high-quality, large, framed prints that showcase City of Brownwood employees to residents, visitors, and future team members. The prints provide increased morale, value, and serve as recruitment of future employees. A particularly favored benefit is when children tour City Hall and staff can explain how many important ways City employees serve the community.
Award of Honor – Best use of Social Media – Unplanned Under 100,000. Other finalists included the City of Georgetown and the City of Keller.
The City of Brownwood received this award for a candid, in-the-moment, and powerful photo taken during an assembly in Downtown Brownwood. The winning photograph was noted for its ability to invoke strong emotion. The winning entry from the City of Brownwood illustrates photography doesn't have to be planned, perfect conditions, with a professional camera body or lens. Photography is about capturing an authentic, timeless moment that cannot be recreated.
"We are very proud to be recognized statewide for our communication efforts to better provide our residents with crucial information as well as to share the story of Brownwood," said Deputy City Manager Marshal McIntosh. "It's very exciting to compete and be recognized against larger cities with dedicated communication departments and more staff."
The Texas Association of Municipal Information Officers (TAMIO) was developed as a result of the increasingly complex role of public information in municipal government. When organized in 1974, only a handful of Texas cities employed professional communications staffs. Today, TAMIO has a growing number of public information / public relation specialists serving small communities as well as urban centers throughout the state.
TAMIO is an affiliate of the Texas Municipal League, which was organized in 1913 and currently represents some 98% of Texas' urban population through its more than 1,150 member cities. Guided by its purpose statement—Empowering Texas cities to serve their citizens—the League helps city leaders meet the ever-changing challenges of governance.