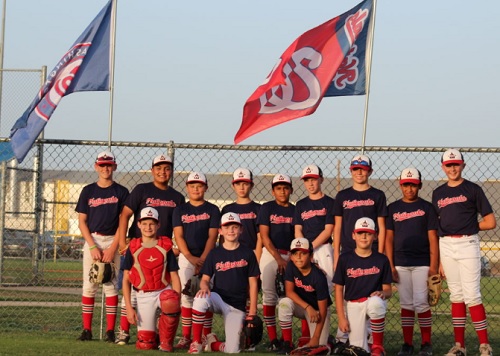 Congratulations to the 12U Nationals team that finished 1st place in local league play as well as first place in District play. This has earned them a berth to the TTAB State Tournament that will be played in Belton next week.
Roster includes: Wyatt Wolf, Gus Stegemoller, Maddox Mendoza, Bradley Martinez, Messiah Ortega, Hutton Malone, Blayne Stegemoller, Boudy Humphries, Chris Ivy, Carter Troutman, Lucas Conway, Owen Oplotnik, Frankie Ibarra, Adyn Lucas, and Kaeden Leach, Coaches are Jeff Crozier, Lorin Wolf, and Adam Malone
Multiple fundraisers are underway to help support the cost of travel and overnight accommodations.
Players are selling raffle tickets for a chance to win a Lottery Ticket Tree. One ticket is $1, six tickets is $5, and twenty-five tickets is $20. The drawing for the winner will be July 14.
There are two bake sales taking place on Friday afternoon between 2:00 pm and 6:00 pm in front of Brookshire's and Walmart.
Saturday morning the team will be at the corner of Austin Avenue and Coggin Avenue asking drivers to fill their batting helmets with any extra change.
Finally, the team will be selling hamburgers at Bruner Auto on Saturday from 11:00 am to 3:00 pm.Any size donation is welcome!
The Nationals and their families want to thank the Brownwood community for their support.
Feel free to contact Hilary Stegemoller (325-642-1604) or Kaylee Wolf (325-998-4638) for donation questions.