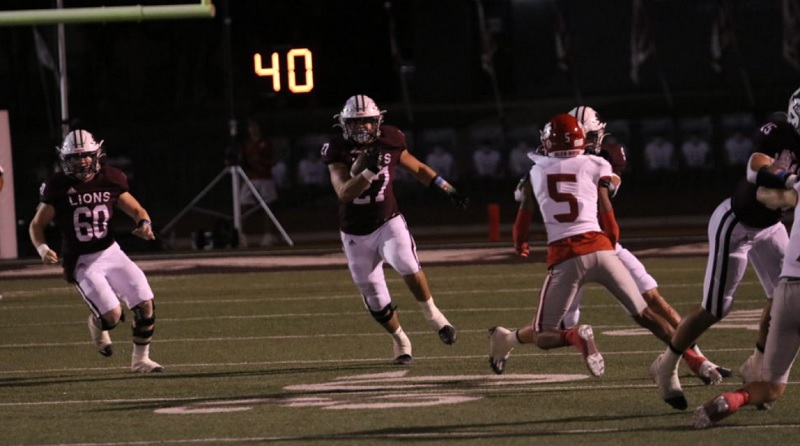 The Class 4A Division I No. 12 Brownwood Lions notched their third consecutive victory, and first at home, with a 17-3 triumph over the Class 4A Division II No. 6 Glen Rose Tigers.
Knotted at 3 at halftime, the Lions (3-1) tallied both of their touchdowns in the second half and for the second time this season – both at home – did not yield a point in the final two quarters. Through four games, Brownwood has given up just 69 points, and only 14 of those have been scored after halftime.
Glen Rose (3-1) – which entered the contest averaging 47 points and 459 yards per game – was without starting quarterback Hudson White, who missed the game with a leg injury. White had thrown for 594 yards with four touchdowns and one interception, while rushing for another 494 yards – a team-high – with seven scores.
Brownwood Quarterback Ike Hall completed 7 of 18 passes for 94 yards and a 28-yard touchdown to Jordan Leach, who hauled in two receptions for 43 yards. Taylor Bessent led Brownwood with his first three receptions of the season for 25 yards, Konlyn Anderson caught a 15-yard screen pass, and Thad Hinds – the focal point of Glen Rose's defense – made one catch for 1 yard.
On the ground, Anderson churned out 129 yards on 29 carries, Hall added 53 yards and a score on five rushes, and Logan McKibben carried twice for 3 yards.
Next week, the Lions are back on the road at Class 4A Division II No. 10 Waco Connally (3-1), which dropped a 51-21 home decision to 4A Division I No. 2 China Spring (4-0) Friday night.
Read a more detailed article and see a photo gallery and video of Brownwood's two touchdowns on Brownwoodnews.com, courtesy of Derrick Stuckly.