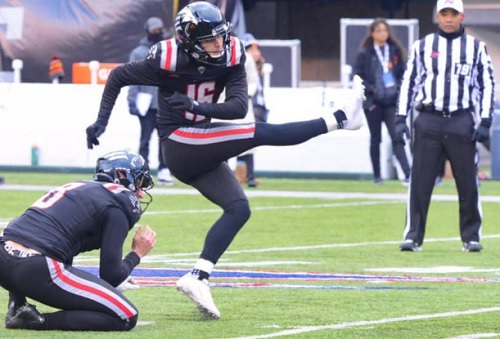 Former Brownwood Lion Matthew McCrane is returning to the professional kicking ranks as on Tuesday he signed with the D.C. Defenders of the XFL.
McCrane played in a previous incarnation of the XFL for the New York Guardians in 2019, where he converted all eight of his field goal attempts including two over 50 yards, with a long of 53 yards.
"I'm excited for another opportunity," McCrane said. "In 2019, with the XFL New York Guardians, I had a really successful season. Unfortunately, COVID ended it early, but it really jump started my career. Following the XFL, I was with the Browns in 2020 and then the Eagles and Cardinals in 2021. The XFL has been extremely helpful to say the least. "
Prior to his stint in the XFL, McCrane, 28, spent time on either the active roster or practice squad of the NFL's Arizona Cardinals, then-Oakland Raiders, Cleveland Browns, Pittsburgh Steelers and Philadelphia Eagles. In 2018, McCrane appeared in a total of five games, converting 8 of 12 field goal attempts – including a 29-yard game-winner in a 45-42 Raiders' overtime victory over the Browns on Sept. 30, 2018 – and all five on his extra point tries.
A 2013 graduate of Brownwood High School, McCrane holds the school record for longest field goal at 52 yards and connected on 7 of 12 field goal attempts during his senior campaign under head coach Bob Shipley.
McCrane went on to attend Kansas State University where in 2017 he was a Lou Groza Award semifinalist and first-team All Big 12 – his third year as an all-conference selection. McCrane finished his KSU career as the all-time leader in field goals, with 57; field goal percentage, with an 86.4% success rate; and extra-point percentage, at 99.3%. His 304 points scored in his career ranks third in K-State history.
The XFL, which is being revived this spring by Dewayne "The Rock" Johnson, features eight teams including D.C., the Seattle Dragons, Orlando Guardians, St. Louis BattleHawks, Vegas Vipers, Arlington Renegades, Houston Roughnecks and San Antonio Brahmas.
The Defenders – who play their games at Audi Field in Washington D.C. and will be coached by Reggie Barlow, former head coach at Virginia State University – open the season at 7 p.m. Sunday, Feb. 19 at home against Seattle in a game televised by ESPN.
During the 10-game schedule, D.C. will host Houston on Monday, March 27 and Arlington on Sunday, April 16, with the its only game in Texas on Saturday, April 22 in San Antonio.
(story by Derrick Stuckly of Brownwoodnews.com)