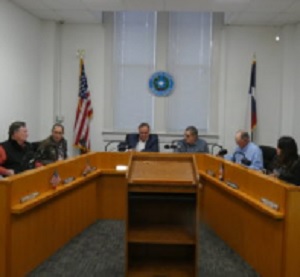 Brown County Commissioners met Monday morning, January 23, where sealed bids were opened for repairs at "The Oaks Rite of Passage" juvenile detention center.
Two bids were submitted for repairs to VCT floor tile.  The low bid of $17,998 from L & K Construction of Early, TX was accepted.  Only one bid was submitted for foundation repairs.  The Commissioners voted to accept the bid of $51,900 from Big Country Foundation Repair of Abilene, TX.
In other business:
*** Commissioners took no action on a burn ban, leaving the current "No Burn Ban" status in place.
*** Approved a request from Justice of the Peace Bryan Thompson to purchase two new computers and software upgrades to Windows 10 from Apollo Computers for $2,487.95.
*** Approved a request from County Auditor Jennifer Robison to declare as surplus and list for sale certain pieces of working IT equipment.  Commissioners also approved a request from Robison to declare as surplus and destroy certain pieces of unusable IT equipment.
*** Approved a request from Precinct 4 Commissioner Larry Traweek to purchase a new Vermeer chipper at the price of $81,277.  Currently Traweek and Precinct 2 Commissioner Joel Kelton  share a chipper, but both agree each precinct needs its own chipper.  Kelton said Precinct 2 will "buy out" Precinct 4's half of the current chipper at one-half of the current used value of $38,000, for a "buy out" amount of $19,000.  The balance of the purchase price of the new chipper will be financed through Texas Bank.
*** Sheriff Vance Hill presented the annual Racial Profiling Analysis Report.  State law requires all law enforcement bodies to collect information throughout the year on motor vehicle stops relating to the race or ethnicity of the individual detained, as well as other data.  The reports are filed every year with the Texas Commission on Law Enforcement.  Some of the data from the report are listed below.  For reference, the racial composition of Brown County, according to 2021 Census Bureau figures, is:  White 69.9%, Hispanic or Latino 23.9%, Black 4.2%, Other 2.0%.
Total Traffic Stops:  714
Race or Ethnicity:  White 532 (74.51%); Hispanic or Latino 145 (20.31%); Black 33 (4.62%); Other 4 (0.56%)
Gender:  Male 470 (65.83%); Female 244 (34.17%)
Reason for Stop:  Violation of Law 14 (1.96%); Pre-existing Knowledge 9 (1.26%); Moving Traffic Violation 469 (65.69%); Vehicle Traffic Violation 222 (31.09%)
Was Search Conducted:  Yes 92 (12.89%); No 622 (87.11%)
Result of Stop:  Verbal Warning 512 (71.71%); Written Warning 19 (2.66%); Citation Issued 118 (16.53%); Arrest 65 (9.10%)
Total Number of Racial Profiling Complaints Received:  0