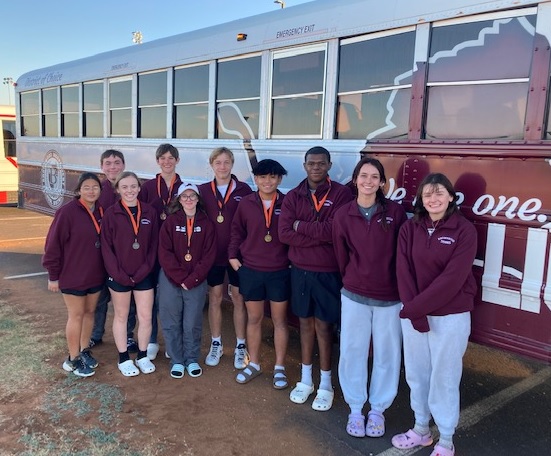 LLANO – The Brownwood High tennis team competed at the Llano tournament Wednesday where they secured two championships, a runner-up finish, a third-place effort, and a pair of consolation titles.
Peter Le in boys singles and Taevion Nickerson and River Prado in boys doubles brought home gold medals; the girls doubles team of Emma Delgado and Raylei Hickey placed second; the mixed doubles tandem of Eric Smith and Ashlyn Bundick came in third; and consolation crowns belonged to Wesley Goodrich in boys singles and Claire Meinecke and Lyric Shaw in girls doubles.
Also competing for Brownwood were Jazzmyn Sanchez and Neely Mullins in girls singles; Thomas Stewardson and Andre Martinez and Eric Waldrop and Tyler Mitchell in boys doubles; and Trine Baugh and Ihana Figueroa in mixed doubles.
Le began with a bye, defeated Jose Barron of Poteet (8-1), Noah Huber of Ingram Tom Moore (8-2) and Frederick Cannon of Ingram Tom Moore (7-5, 6-3).
Nickerson and Prado picked up an 8-0 win in the first round and followed with victories over Stires and Davis of Burnet (8-1), Palacios and Lambert of Ingram Tom Moore (8-1) and Cantwell and Huber of Ingram Tom Moore (6-3, 6-3).
Delgado and Hickey also started with a bye then knocked off the Cuevas/Pham team from San Saba (8-0), the Soto/Chimal duo from Ingram Tom Moore (8-4), and fell to the Salinas/Van Zandt tandem from Burnet (6-2, 6-0).
Smith and Bundick toppled Alcoser and Dove from Poteet (8-2) in the first round, fell to Gutierrez and Johnston of Ingram Tom Moore (8-4) in the semifinals, and bounced back with a win over Brownwood teammates Baugh and Figueroa (8-3) in the third-place match.
Goodrich dropped his first match to Nick Dietrich of Burnet (8-4), but rallied to defeat Noah Lozano of Brady (8-0) and Blake Feldt of Burnet (8-4).
Meinecke and Shaw stumbled against McKenzie and Alvarez of Ingram Tom Moore (8-2), but responded with victories against Martell and Rodriguez of Poteet (8-0) and Cuevas and Pham of San Saba (8-1).
The Lions and Lady Lions will be back in action Feb. 3 when they host at quad event at Brownwood High School.
(story courtesy Brownwoodnews.com)