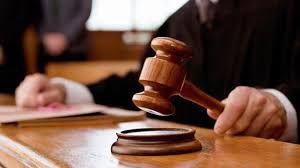 District Attorney Micheal Murray reported that on Friday, January 27, 2023, a Brown County jury convicted Justin Wichner, 38, of Online Solicitation of a Minor. Wichner was sentenced to five years' incarceration in the Texas Department of Criminal Justice, Institutional Division and received a $5,000 fine from the jury.
First Assistant District Attorney Elisha Bird and Assistant District Attorney Skyler Schoolfield presented evidence during the four-day trial that on August 6th and 71\ 2020, Wichner sent messages to an undercover officer soliciting a meeting for sexual purposes. Bird presented evidence that the undercover officer had an online persona of a 14-year-old child.
Wichner had already been convicted in a federal court for Sending Obscene Communications for messages arising from the same incident. The federal court sentenced Wichner to 9 months incarceration. Bird filed a motion for cumulation of sentences asking the Judge to stack any sentence assessed by the jury in this case on the federal sentence. Judge Mike Smith granted the motion for cumulation.
Wichner was less than honorably discharged from the military after the charges were brought.