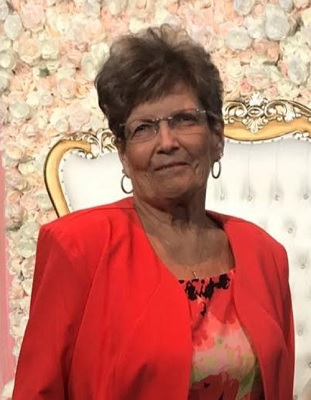 Nancy Jean Burroughs Hayse, 77, of Denton, TX passed away May 29, 2023 at her home with her children by her side.
Visitation will be held on Friday, June 2, 2023 from 6 – 8:00 pm  at Heartland Funeral Home in Early.
Graveside Services for Nancy will take place Saturday, June 3, at 2 p.m. at the Eastlawn Memorial Park.
She was the second of three daughters to George Haley Burroughs and Maria Olevia Jones Burroughs, born October 25, 1945 in Brownwood. Nancy graduated from Brownwood High School and worked at GTE/Verizon for more than 25 years. Nancy deeply loved cooking especially for her loved ones. Every holiday she decorated her home extravagantly and prepared a wonderful feast, the highlight of which was her famous cherry supreme. In her free time, she cultivated a beautiful garden with lush plants, decor, and bird feeders. She had a fondness for girls trips with her sisters, daughter, and nieces – and one year they even let the boys tag along. She had a sparkling sense of humor that she maintained until her final days.
The two loves of Nancy's life were her husband of 22 years, the late John Thomas Hayse, Sr., and her husband of 10 years, Fred Pilkington. Nancy is survived by her beloved children, daughter Angelia Pilkington Gonzalez, sons Rance Haley Pilkington Sr. and Scott Hayse, daughters-in-law Heather Pilkington and Saira Hayse, her younger sister Judy Burroughs, as well as her grandchildren, great grandchildren, nieces and nephew, and partner, Waine. She was predeceased by her father George in 1983, her mother Marie in 1997, her husband John Thomas in 1999, older sister Bettye Burroughs Justis in 2013, and her grandson Sawyer Ajay Hayse in 2022.
The family appreciates all gestures of support including flowers or donations to breast cancer research. Online condolences, memories and tributes can be made to the family at www.heartlandfuneralhome.net