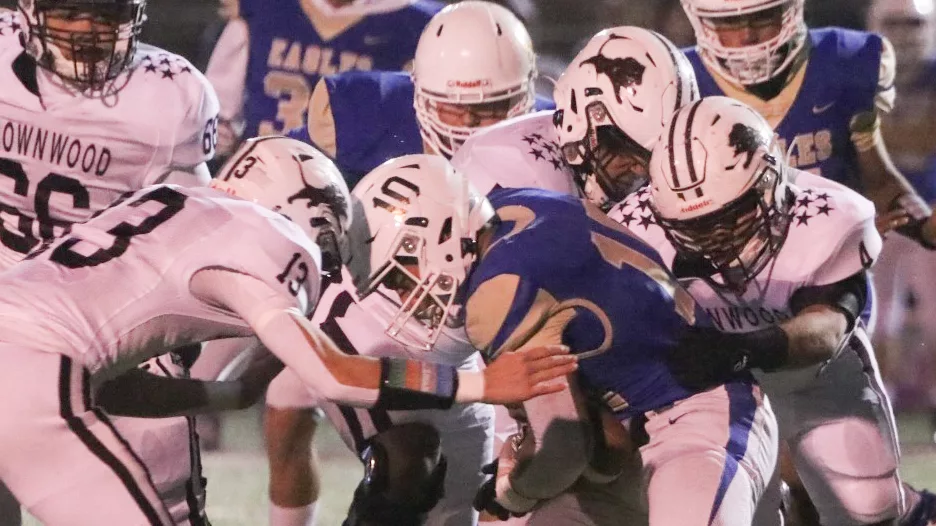 The No. 6 Brownwood Lions eased to their second consecutive bi-district championship on their home turf last week, cruising to a 56-0 victory over San Elizario. Next up for sixth-year head coach Sammy Burnett's squad is the Canyon Randall Raiders in the Region I-4A Division I area playoffs.
Kickoff between the Lions (10-1) and Raiders (7-4) in the second-round playoff matchup is set for 7 p.m. Friday at Midland Greenwood High School.
"I'm excited about the opportunity, and our kids are excited," Burnett said. "We've had some really good days of work. I haven't been walking off the field more excited than this week just because of the focus our kids have had in practice. They want to be successful, they put the time in, they work hard day in and day out. Just to see their desire to be different, to be great, to try and be elite and to represent the town and community, I couldn't be more excited about that and that has to translate to victories. We have to go out and believe in the work we put in, continue to do what we do and not be dictated to by our opponent, we're dictated by our play. If we go out and do what we do, we'll be fine."
Randall is coming off a 48-28 bi-district triumph over Burkburnett. The Raiders have experienced defeat on four occasions this season, however, with losses to Andrews (32-21) in the season opener, Amarillo Palo Duro (45-27), Canadian (69-28) and Canyon (48-7) in district action.
The Raiders average 30 points and 348 yards – 176 rushing and 172 passing – per game, led by quarterback Tryston Sanchez who has completed 123 of 226 passes for 1,507 yards with 14 touchdowns and nine interceptions, while rushing for 716 yards and 10 more scores. Dylan Ray (1,214 rushing yards, 16 TDs) is the top rusher for Randall, while primary receiving threats include Collin Miller (32-590, 3 TDs), RJ Matthews (21-222, 2 TDs), Kaison Benton (20-227), and Kaiden Miller (20-423, 5 TDs).
"Tryston Sanchez, their quarterback, is a dealer and he can throw the football," Burnett said. "They throw it down the field when they need to, but they throw a lot of screens, a lot of out cutting routes and they do a good job working the sprint out. He's a very fast kid that runs a lot of quarterback sweeps and quarterback zone stuff so we have to stop him.
"Their running back, Dylan Ray, he's the other one we have to stop and that's our focus. Their tight end does a good job catching the ball and a good job blocking. They have a couple of receivers, probably their most dominant receiver is Collin Miller. They have a kid that started at quarterback earlier in the year and they put him in at receiver. When he's in the game we're going to expect a double pass.
"They run a lot of trick plays, reverses, reverse passes, double passes, so we have to be sound at what we do, be disciplined with the techniques that our kids are being taught, get off the field on third down and force them to punt the football."
The Lions counter with a defense that yields 15 points and 257 yards – 135 rushing and 122 passing – per outing. Over the last three games, Brownwood has surrendered a total of 6 yards through the air, though two of the opponents made no real effort to pass the ball.
Standouts for the Brownwood defense include Steve Ramirez (116 tackles, 8 for loss, 2 sacks, 1 INT), Sam Kallman (115 tackles, 7 for loss, 6 sacks, 1 fumble recovery), Jake Jetton (100 tackles, 1 sack, 1 fumble recovery, 1 INT), Noah Gonzalez (97 tackles, 6 for loss, 2 sacks, 1 fumble recovery), Zakk Zabecki (77 tackles, 4 for loss), Weston Wolf (56 tackles, 5 for loss, 6 sacks), Quinten McCarty (55 tackles, 2 for loss, 4 sacks), Jaylan Brown (46 tackles, 1 for loss), Robert Trowbridge (45 tackles, 3 for loss, 1 sack), Cole Miller (44 tackles, 2 for loss, 1 sack), Jordyn Nickerson (37 tackles), Hayden Noe (36 tackles, 1 for loss 1 INT), and Morsello Hooker (33 tackles, 1 for loss, 2 INTs).
The Randall defense allows 28 points per game with 10.5 sacks on the season and 15 takeaways – nine by interception and six fumble recoveries.
Leading the charge are outside linebacker Carson Barclay (88 tackles, 9 for loss, 4 fumble recoveries), middle linebacker Aiden Osage (73 tackles, 2 for loss), free safety Logan Hanna (72 tackles, 1 for loss, 2 interceptions), outside linebacker Drayven Patton (54 tackles, 2 for loss, 1 fumble recovery), and strong safety Gio Miranda (53 tackles, 1 for loss, 2 fumble recoveries). Defensive ends Brekton Melton and Garrett Splitt have each recorded four sacks.
Behind the front of McCarty, Miller, Davis Le, Aidan Packhesier and Logan Knight, the Lions offense is churning out 41 points and 402 yards – 239 on the ground and 162 through the air – per outing.
Quarterback Ike Hall has amassed 1,363 yards and 19 touchdowns on the ground while completing 87 of 159 passes for 1,544 yards with 16 touchdowns – including five last week – to go along with five interceptions. Receiving threats include Carson Noe (31-464, 5 TDs), Aaron Edmonds (23-281, 2 TDs), Hooker (13-359, 8 TDs), Stone Ratliff (8-177, TD), Hayden Noe (6-133, TD) and Wolf (6-109, TD). Other weapons out the backfield include Levi Pearson (570 rushing yards, 5 TDs), Brown (328 rushing yards, 7 TDs), Xavier Zepeda (162 rushing yards, 2 TDs) and Logan McKibben (119 rushing yards, 2 TDs).
"When we get the football we have to control the line of scrimmage" Burnett said. "We have to hit them in the mouth up front, dictate what we do with our run game which will cause them to have to tighten the box so we can get over the top. They play a cover 2 and a cover 1 look, sometimes they roll to cover 3 but they're a predominantly a cover 2 team in my opinion, and we have good route concepts for that.
"Ike's job is to read the safeties, how deep they are, are they in the box, do we have shots, just read the coverages when it's time to throw the football. We have to understand whether it's zone or man, find the windows in zone and keep running in man and create space. But if we can run the football, stay in front of the chains and control the line of scrimmage we'll be fine."
On the health front, Kallman has been playing with a hernia all season and will be back in the lineup Friday after missing last week's contest.
Hayden Noe separated a shoulder early against San Elizario but is expected to give it a go against Randall. This week during practice, Packheiser tweaked a knee and Pearson suffered an Achilles injury, but as of Wednesday Burnett expected both to suit up Friday night. If any are unable, "It'll be next man up and that's just how we have to do it," Burnett said.
According to Harris Ratings Weekly, Brownwood is a 21-point favorite.
Friday's winner will face either Springtown (8-3) or El Paso Riverside (9-2) in the Class 4A Division I Region I semifinal round next weekend.