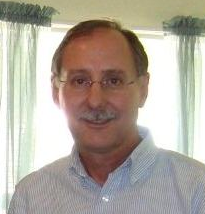 Mike Blagg is a Brownwood native, born and raised here. After college he spent a few years in Louisiana, where he learned to love Cajun food. In the 1980's he returned to Brownwood to join the family business, Weakley-Watson Hardware, where he worked until the business was sold in 2017.
Mike's gig with KOXE began several years ago as Carl Wayne's assistant in calling the Brownwood High School Lady Lion softball games, his favorite sport. After retiring from the hardware business, his duties at KOXE have expanded to include coaches interviews, studio engineer, Youth Fair coverage, and just about anything else they think he can handle. Mike loves Brownwood and loves his work at KOXE.
More About Mike
What advice would you give your younger self?
Find something you like to do, and get the training to do it professionally. That way you never "work" a day in your life. It's an old saying, but it's true.
What would be your dream job?
Rhythm guitar player behind Eric Clapton.
If you could only eat one meal for the rest of your life, what would it be?
Seafood is my favorite, I would say blackened shrimp.
What song would you sing in karaoke?
Well since I can't sing, it would have to be a Bob Dylan song. I love Bob Dylan, but he can't sing, he kinda talks his way through his songs. Let's say "Subterranean Homesick Blues."
If you could go back in time, when and where would it be?
Either 16th Century England, during the reign of the Tudor kings, Henry VIII, his daughters Mary and Elizabeth, and their cousin Mary Queen of Scots. That time has always fascinated me. Or early 16th Century Mexico, the Aztec empire before Cortez arrived. They had quite an advanced civilization, and they say their capital city Tenochtitlan (now Mexico City) was one of the most beautiful cities in the world.
What is your favorite quote?
Oscar Wilde: "I can resist everything except temptation."
What is your favorite movie?
I'm not a big movie person, the first one that comes to mind is "Fargo."
What is your favorite style of music?
Blues, absolutely. The three Kings (B.B., Albert, and Freddie), Muddy Waters, Slim Harpo, Sonny Boy Williamson, Eric Clapton, Stevie Ray Vaughan, the list goes on and on…