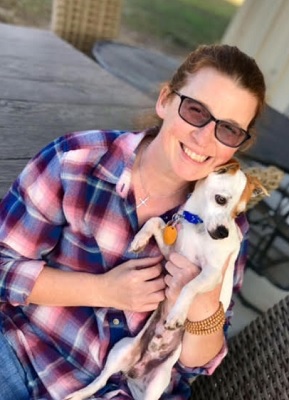 Brandi Michelle Tyson, 46, of Brownwood passed away Tuesday, June 8, 2021 in Gunnison, Colorado.
A visitation with family will be held from 6:00 – 8:00 PM, Friday, June 11, 2021 at Heartland Funeral Home.
The Celebration of Life ceremony will be held at the First Baptist Church in Early, Saturday, June 12, 2021 at 10:00 AM officiated by Pastor Ron Winsman.  Services are under the direction of Heartland Funeral Home.
Brandi was born March 3, 1975 in Brownwood to Kelly and Donna Tyson.  She graduated from Early High School and attended college at Tarleton State University in education.  Brandi taught English and Literature at High School level over 20 years and absolutely loved her mission, her calling, her work.  Brandi didn't care for the STAAR test and traditional education but she loved encouraging her students, and getting them out of their comfort zone to push and guide them to follow and chase their dreams.  This was the norm for Brandi at work and at home.  She had such a big heart and loved to rescue animals or people and give them that leg up.  She shared her heart with the world and radiated love to everyone around her.  Brandi was very passionate about many things, but her heart and kindness was always in the center of her being.  She was a loud, proud, firey red head who wasn't afraid to break the rules and go against the "norm".  Brandi loved to "Carpe the Diem" and taught everyone how to "embrace the suck".  She took this from Brene Brown and used it to help people understand that life is not always sugar and spice, there will be lows and things will happen that are less than desirable, but with a little embracing, perseverance, and hope, everything will be alright.  Brandi loved life, loved people, loved to travel and loved her family.  She always wanted to go, loved to see new places and new people, but her favorite was Italy.  She also loved to be "Nona" to her "little man" and "squishy".  Brandi loved her children, grandchildren and parents.  She never missed an opportunity to jerk Pop's chain, always looked forward to family gatherings and was the life of the party.
Brandi is survived by her parents, Kelly & Donna Tyson of Early; children, Brooklyn Spohn and husband Jared, Jameson Allen an Reese Allen of Comanche, Petyon Allen of McKinney, and Connor Allen of St. Petersburg, Florida; sister, Kassi Tyson of San Antonio; brother, Shance Tyson of Houston; grandson, Bentley Allen Dale of McKinney; granddaughter, Harvie Spohn of Comanche; Uncle and Aunt's, Vicki and Jim Ferguson of Brownwood, Lloyd and Ginger Tyson of Early, niece, Grace Tyson of Houston; cousins, Tony & Jennifer Aaron of Early, Tony & Jennifer Tyson of Weatherford, Jen Cason of Houston; and many beloved students, co-workers & friends.
Brandi was preceded in death by her grandparents, Dewitt and Bobbie Allen & Ethel and Ken Elliott, A.T. Tyson; great grandmother, Mama Leo Nelson; cousin, Chris Dutton; great uncle's and aunt, Betty and Toodle Middleton, Charlie Tyson.
In lieu of flowers the family requests that donations be sent to a dear friend of Brandi's who operates a shelter for women in Haiti at https://heartlineministries.kindful.com/?campaign=260809
Online condolences, tributes and memorials can be shared with family at www.heartlandfuneralhome.net