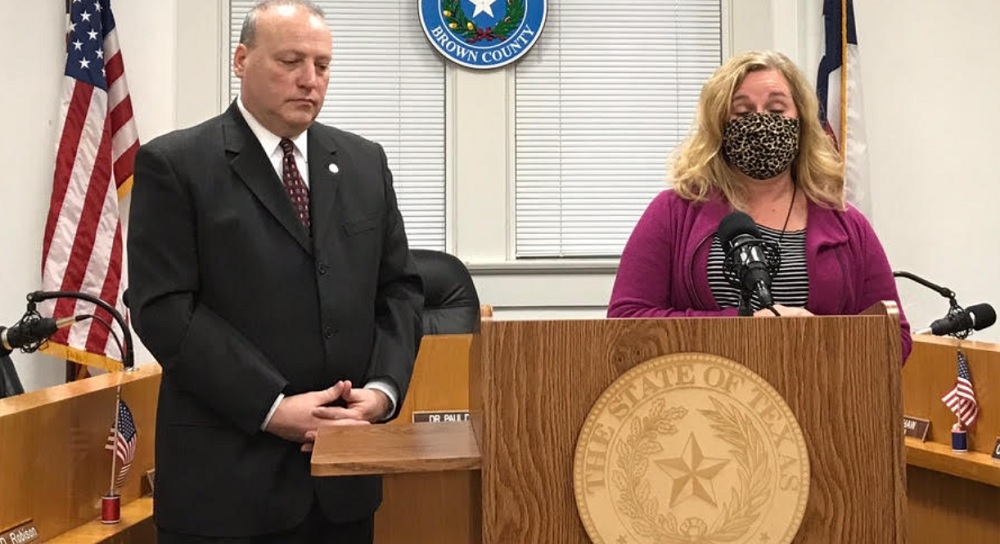 "It is here and it has hit us hard, extraordinarily hard, for a county of under 40,000," were the words Monday morning of Brown County Judge Dr. Paul Lilly.
Judge Lilly reported that he, the Mayors of Brown County cities and Lisa Dick, administrator of the Brownwood/Brown County Health Department, met for about one hour on Friday afternoon at the courthouse.
"We came out of that meeting unified as we went in. I want to stress to everyone, citizens of Brown County, we will not be shutting anything down. I have spoken to the Governor's office. He plans not to issue any shutdowns whatsoever of the economy," Judge Lilly said. He added that he spoke to the Officer of Intergovernmental Affairs at the White House and they said there are no plans for a shutdown as long as President Trump is still in office.
"What I'm urging everyone to do, one of the biggest precautions we can take, are these annoying masks. I know you don't like them, I don't like them either. But the fact is if it's the 95 version of the mask, or its equivalent, it does help. Any kind of facial coverage helps," Lilly said.
Lilly added that Governor Abbott has a mask order in place. "We are required, right now, to wear a mask. I can tell you, at the county and city level, there has been no citations issued for people not wearing their mask. But, a citation could be issued. What most people don't realize, there is a fine attached," Lilly said. "I'm asking for voluntary compliance from everyone listening to me in Brown County. Please, wear your mask. I know it's a pain." Lilly said our only options are to curb the spread of the virus and hold out until a vaccine is available which is possibly by the end of the year.
Changes Coming to Staffing at the Health Department
At a time when COVID cases in Brown County are at an all time high, money to pay workers who track COVID cases for the local health department, is running out. Funds to pay for the majority of the staff are due to run out December 30. The number of people tracking and assisting the COVID patients will go from 11 to 3 at the end of December.
"Our finances will go through December 30 for the majority of our staff. After that, we have additional funding that will remain, we're using some of it now, Public Health Preparedness Funding, which will allow us to have some of our staff through the end of March," Lisa Dick said. The loss of staff will mean rearranging personnel and reassigning focus for some employees. Judge Lilly also presented the idea to County Commissioners of perhaps asking existing county employees to voluntarily work a portion of their work week helping the Health Department if they were so inclined.
Covid Update for County Schools
Judge Lilly gave an update on county schools mentioning Brownwood ISD has seen a large increase in positive cases and that quarantine numbers are high. Early ISD is needing substitute teachers to fill in for quarantined teachers. May ISD reports low COVID numbers. Blanket ISD has had 3 staff and 2 students in quarantine. Bangs ISD has had a steep increase in cases. Brookesmith went to online learning. Lilly said he had not had a report from Zephyr.
Judge Lilly said he and the Mayors will meet again next week to address the ongoing pandemic.