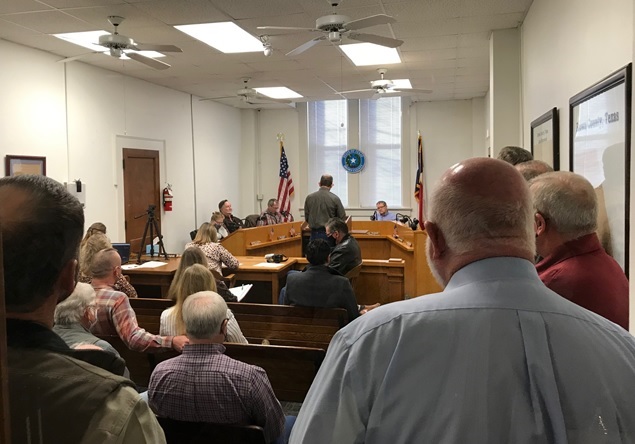 Though not an agenda item, more than 20 people attended the Brown County Commissioner's meeting Monday morning to continue commenting on a proposed solar farm in southwest Brown County.  Several people registered to speak during public comments, all opposing the proposed solar farm.  One man was opposed to tax abatement in general while another man suggested approving the project would be the beginning of many renewable energy projects in Brown County.  Commissioners received the comments but there was no further comments or action taken.
Previous KOXE Stories from December 2020 are below:
In session Monday morning, December 14, Brown County Commissioners Court voted 4-1 to retain Allison, Bass & McGee, LLP, as consultants for a potential Brown County Solar Project with Intersect Power. As reported previously, IP Radian Solar.
—————————————
Brown County Commissioners took no action on a request for tax abatement for a proposed solar power farm in southwest Brown County, near Brookesmith.
In a meeting Monday morning, December 7, Dale Cummings and Christian Fiene, representing Intersect Power, addressed Commissioners.  They were there to ask for a tax abatement for the project.
The project would cover approximately 3,000 acres and produce 300 mega watts of power, enough to power over 50,000 homes.
The project would create 300 jobs during construction and 2 permanent jobs.
Even with abatement, the solar farm would pay $137,000 per year in taxes to Brown County.
Commissioners expressed concern that a tax abatement would set a precedent that would be difficult to turn away from if other projects requested a tax abatement, such as wind towers.
The Commissioners took no action, saying they would like time to study the issue.
If approved, construction on the solar farm project would begin about May 2021 and take approximately one year to complete.