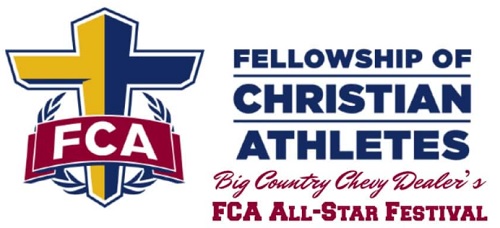 The Big Country Chevy Dealers FCA All-Star Festival begins this weekend.  The All-Star Women's Basketball game will be played at Warren Gym at Brownwood High.  Tip-off is 4:00 pm.  The All-Star Men's Basketball game will follow the ladies game at 6:00 pm.
Brown County athletes competing in the basketball contests will be Brownwood's Lindsey Larose on the South girls basketball team; Brownwood's Zach Porter on the South boys basketball team; and May's Roberta Robinette on the South girls basketball team.
A total of 25 Brown County student-athletes – 13 from Brownwood, four from Early, three each from Bangs and May, and one apiece from Blanket and Brookesmith – will compete in the 22nd annual All-Star Festival, which runs through June 12, in four different Big Country cities.
In total, more than 300 athletes representing 73 high schools will take part in this year's FCA festival.
Following the basketball games Saturday, the schedule is as follows:
* Monday, June 7 and Tuesday, June 8: the 2nd annual Big Country FCA All-Star golf tournament on the Kingdom Course at Solid Rock Camp in Eastland
* Friday, June 11: the 8th annual FCA All-Star softball and baseball games in San Angelo, presented by 1st Community Federal Credit Union
* Saturday, June 12: the 9th annual FCA All-Star volleyball game in Abilene, presented by Hendrick Medical Center
* Saturday, June 12: the 22st annual Myrle Greathouse All-Star Football Classic in Abilene, presented by the Myrle Greathouse Foundation