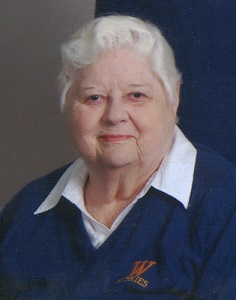 Ola Jean Alderson, 85, of Coleman, went to be with the Lord on Saturday, August 17, 2019. Her husband, Wayne Alderson, joined her on September 30, 2019.
There will be a committal service with Military Honors for Ola Jean 11:00 a.m. Wednesday, June 16, 2021 at the Coleman City Cemetery.  Services are under the direction of Stevens Funeral Home.
She was born Ola Jean Smith on June 16, 1934 at her family's home in Coleman, to Vester (Pete) Smith and Margaret Emma Martin Smith.  Ola Jean grew up in Coleman and attended Coleman schools.  She moved with her family to Houston and graduated from Stephen F. Austin High School in 1952.
After graduation, Ola Jean enlisted in the United States Air Force, serving as a dental assistant.  During her time in the Air Force, she met he future husband, Wayne Alderson.  Ola Jean and Wayne were married on February 5, 1953 at Lowery Air Force Base in Denver, Colorado.  After her tour in the Air Force, she worked for a bank and traveled the world as a Travel Consultant for Triple AAA Travel.  Ola Jean was a 50 year member of the Daughters of the American Revolution, Captain William Buckner Chapter, which she was very proud of.  She was also a member of the First United Methodist Church in Coleman.
Survivors include her husband of 66 years, Wayne Alderson of Coleman; two sons, Michael Alderson and wife, Karin, of Seattle, Washington, Rusty Alderson and wife Nancy of Waller; three grandchildren, Anna Alderson and husband, Jeff Josephson, of Seattle, Washington, Siri Alderson of Seattle Washington and Jason Dyer of San Antonio.  Also surviving are two great grandchildren, Jonathan Dyer of San Antonio and Cameron Dyer of San Antonio.
She was preceded in death by her parents.
Those wishing to leave a remembrance or condolence for the family may do so at stevensfuneralhome.com.  Stevens Funeral Home is honored to serve the Alderson family.