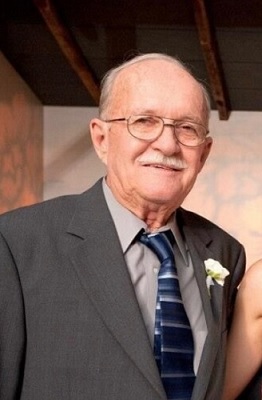 James Lee Bishop, age 82, of Universal City, Texas, died peacefully at his home on Monday, January 17, 2022.
Private family services will be held and he will be laid to rest in his family plot in Voss Cemetery,  Coleman County, Texas.  Services have been entrusted to Stevens Funeral Home in Coleman.
He was born on April 14, 1939 in Oklahoma.  As a young child he was adopted by James Herman Bishop and Mary Mae Guthrie Bishop.  James grew up in Sweetwater and graduated from high school there.  Following graduation from high school, he attended Sul Ross University in Alpine.  He was married to Neva Jeanette Herring and they had three daughters, Cynthia, Tracy and Becky.  He later was married to Patricia Mann and she preceded him in death in 2007 after 15 years of marriage.  James worked for Trainor in Abilene and H. C. Zachary.  He retired after many years of working for J. C. Evans in Austin, where he was a supervisor.  He was raised in a Baptist church and had a very strong faith in Jesus Christ, our Lord and Savior.
James was a great dad who deeply loved his family and they have many wonderful memories of camping, water skiing and attending rodeos.  Each of his daughters had their own mini bike and he made sure that they had a wonderful childhood.  He will be deeply missed by all who loved him.
He is survived by three daughters, Cynthia Marentes and husband Eddie of Winters; Tracy Hunt and husband Tracy (known as Hunt) of Ovilla and Becky Lenius of Universal City;  a son-in-law, Perry Lenius;  grandchildren and great-grandchildren, Edward, Whitney, Brennon and Madelyn Aguirre, Clint and Caleb Marentes, Christina Marentes, Chloe Gonzalez, Misty, Bobby and Nevaeh Espinosa, Dylan and MaeLynn Doughty,  Zachary Lenius, Stephanie Hagan, Christopher Siniff, Tabitha Siniff, Jamie Lenius, Jessica Lenius, Isaiah Lenius, Micah Lenius, Jairus Lenius and Pearl Siniff.
He was preceded in death by his parents, his wife, Pat, and one grandson, Gary Mac Marentes.
Pallbearers will be his grandsons, Chris, Clint, Michael, Isaiah, Micah, Eddie, Bobby, Brennan, Dylan and Jairus.
Please leave kind thoughts and condolences for the family at www.stevensfuneralhome.com.