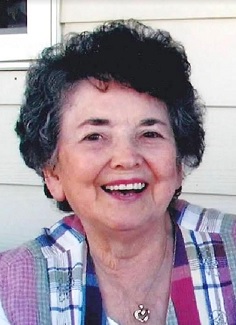 Lois Kathryn Pettijohn passed away November 12,2022 in Brownwood, Texas.
Lois Kathryn (Gaines, Moore) Pettijohn was born to Hamilton & Ethel Gaines at Proctor, Texas, April 22, 1921.  She was raised in a farming family, graduated from Proctor High School in 1938 & attended Tarleton in 1956.  Lois married Seth E. Moore in 1942.
They farmed in the Baggett community, eventually moving to Comanche where they owned and operated 3 grocery stores. After a devastating fire, they moved to Fairbanks, Alaska in 1952.  The first year they lived in a 20 x 20 foot one-room log cabin with a coal cook stove, oil heater & no running water.  Lois worked as a bank teller & bookkeeper. During 12 years in Alaska, they founded the Hamilton Acres Baptist Church, the most northern Baptist church in America at the time. They experienced volcanic eruptions, hunted caribou and bear, panned for gold, endured temperatures of 60 degrees below zero, owned overhead door, used car, & construction businesses.
Returning to Texas in 1964, they built & operated Queenie's Grocery, Brown County Brick & Truss Company & Sand Man. They were members of Southside Baptist Church.  They planted 20 small pecan trees at their home in 1974 that today bear several varieties of paper shell pecans, producing hundreds of pounds of fruit annually.
Lois married Jack Pettijohn, a former high school friend, December 1999, officiated by her grandson, Pastor Ronnie Ray Moore.
Lois was preceded in death by Seth Moore, Jack Pettijohn, grandson Paul Gaines Moore & great-grandson Nathaniel Leggett.
Lois remained in her home the past 8 years with her son Pastor Ron & daughter-in-law Bonnie Moore.  She loved Cardinals and had an extensive collection of Cardinal artwork. She read her Bible every night all her life.
Lois is survived by her son, Ron and wife Bonnie Moore of Seeley Lake, Montana, her granddaughter, Cheri and Husband Ray Leggett of West Liberty, Kentucky, her granddaughter Yvonne and husband Brad Mauldin of Fort Worth, Texas, her grandson, Ronnie Ray and wife Andrea Moore of Friendswood, Texas.
She is also survived by 8 great-grandchildren, Ashlei & Steven Greenleaf of Bar Harbor, Maine, Mitchell Leggett of Sun Prairie, Wisconsin, Matthew Leggett of Portland, Oregon, Timothy Leggett of Seeley Lake, Montana, Monty Harshfield of Missoula, Montana, Cara Moore of Friendswood, Texas, Caleb Moore of Friendswood, Texas, Carissa Moore all of Friendswood, Texas and a host of friends.
Services are entrusted to Heritage Funeral Home Davis Morris Chapel.
Public viewing will be Saturday, November 19, 11:00 am until 1:00 pm at Heritage Funeral Home Davis-Morris Chapel. Funeral service is at 1:00 pm Saturday in the Davis-Morris Chapel.