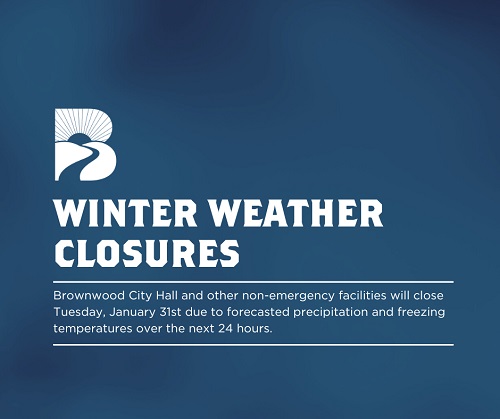 Due to forecasted precipitation and freezing temperatures over the next 24 hours, the City of Brownwood will be adapting its hours of operations. Depending on weather conditions over the next 24 hours, additional closures or delays may be announced for Wednesday, February 1st. All emergency services will operate as usual. The following adjustments are announced for Tuesday, January 31st.
All non-emergency facilities, including City Hall, will be closed.
The Landfill will operate per normal business hours, but the Recycling Center will be closed.
Sanitation will not operate on Tuesday and will pick up Tuesday's route on Wednesday for both residential and commercial routes.
The Senior Citizens Center will not serve congregant meals or home delivery.
Now is an opportune time to register your cell phone number and/or email address to receive emergency alerts from the City of Brownwood by text, phone and/or email. The CivicReady Alerts is available to City of Brownwood residents. Register at: https://bit.ly/BTXalerts
Oncor is the electricity provider in the City of Brownwood. Report power outages through Oncor's Storm Center website (https://bit.ly/BTXoutage), by calling 888-313-4747 or texting OUT to 66267 if you have registered for My Oncor Alerts. To register for My Oncor Alerts, text REG to 66267.
TxDOT advises drivers to use caution when driving over bridges and overpasses, and remember a vehicle needs more distance to stop on a slick roadway. Do not apply the brakes suddenly, do not use cruise control, and drive with care when road conditions are affected by cold weather. You can monitor road conditions by visiting drivetexas.org.