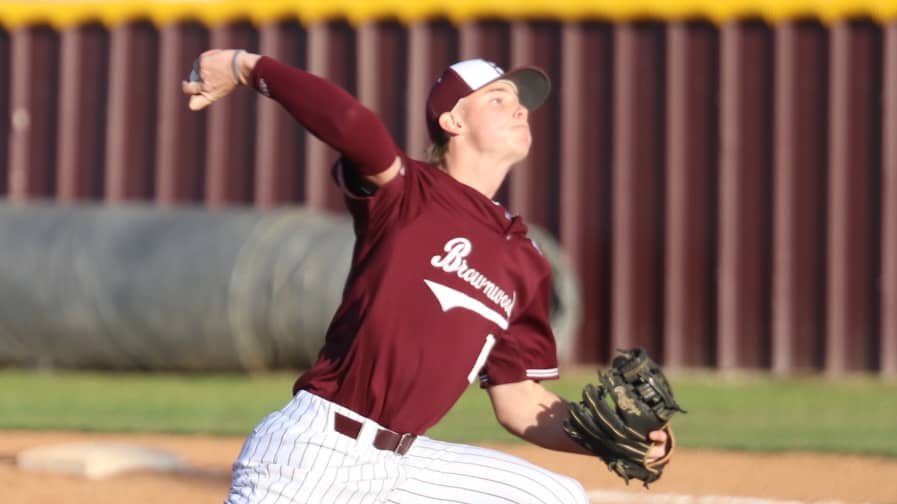 MINERAL WELLS – Gavin Brandstetter tossed a three-hit shutout with 15 strikeouts and hit a home run, and the Lions scored five two-out runs in the fourth inning to spark Brownwood's 11-1 victory over the Mineral Wells Rams Tuesday night in the District 6-4A opener for both teams.
The Lions (9-3, 1-0) earned their fourth straight victory as they collected eight hits, drew seven walks and capitalized on six Mineral Wells (5-4, 0-1) errors to help overcome a 15-strikeout performance of their own at the plate.
Mineral Wells took a 1-0 lead in the bottom of the first inning as Blake Blue reached on a dropped third strike and scored on Mason Facteau's RBI double to the right field wall. From that point forward, the Rams mustered just two base runners as Brandstetter did not issue a walk and the Lions did not commit an error.
Brownwood lit up the scoreboard for the first time in the fourth inning as Campbell Gilmore, Cole Miller and Austin Wright reached base on three consecutive two-out singles. Antonio Ybarra followed with a grounder to second base that was thrown away, allowing Justin Valdez – running for Gilmore – and Cameron Harte – running for Miller – to score and push the Lions in front, 2-1. Case Markham and Brandstetter were next to the plate, where back-to-back errors at shortstop permitted Brownwood to tack on three more runs before the frame ended.
The Lions stretched the advantage to 7-1 in the fifth inning as Owen Huntsinger and Gilmore drew back-to-back walks before Ybarra delivered a two-out, two-RBI single to increase the advantage to six run.
Brownwood's final four runs were scored in the top of the seventh inning as Eli Goodrich reached on an error and Ybarra singled ahead of a two-RBI triple by Markham. A throwing error on the play allowed Markham to score as well, padding the cushion 10-1. Brandstetter followed with the Lions' first home run of the season, a towering shot to left field, for the final 10-run margin.
The Lions will take part in the Boyd/Bowie tournament this weekend, then resume district action at 7 p.m. Wednesday, March 15 when Graham visits Morris Southall Field.