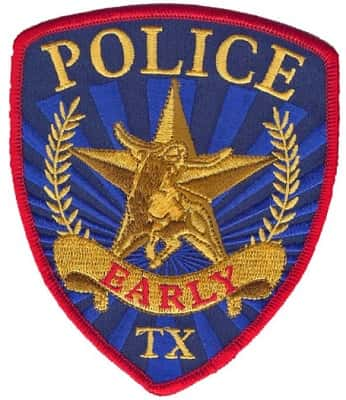 According to information from the Early Police Department:
On September 13th at approximately 1:50pm the Early Police Department responded to a non-injury accident that occurred at Early Blvd and Garmon Drive (Highway 183 south) between three (3) vehicles. The caller stated an older model red Suburban had hit a vehicle from behind, then backed up and struck a vehicle, then was leaving the scene.
Early Officers checked the scene while a Brownwood Officer was able to intercept the red Suburban on East Commerce. An Early officer responded to East Commerce to continue his investigation of the accident. The driver of the suburban, Christopher Aguilar, was provided a field sobriety test which he failed. Officers placed Aguilar under arrest for Driving While Intoxicated and then obtained a search warrant for a blood test.
According to police, while at the Emergency Room, Aguilar began threatening to assault the officers then refused to allow the nurse to take the blood sample. Aguilar began to get combative and officers had to physically restrain Aguilar. Aguilar was then taken to the Brown County Jail. Aguilar history indicated two (2) previous convictions for DWI which enhanced this arrest to a felony. Aguilar also had multiple traffic violations with the accident. Aguilar was booked into the county jail for the following;
DWI 3rd or more. Felony 3rd degree
Retaliation. Felony 3rd degree
Fictitious, wrong or altered license plates. Class B Misdemeanor
Resisting arrest or Search; Class A misd.
Fleeing Accident involving damage; Class B Misd.
Following too Close; Class C Misd.
Backed without safety; Class C misd.
Fail to maintain financial responsibility; Class C Misd.