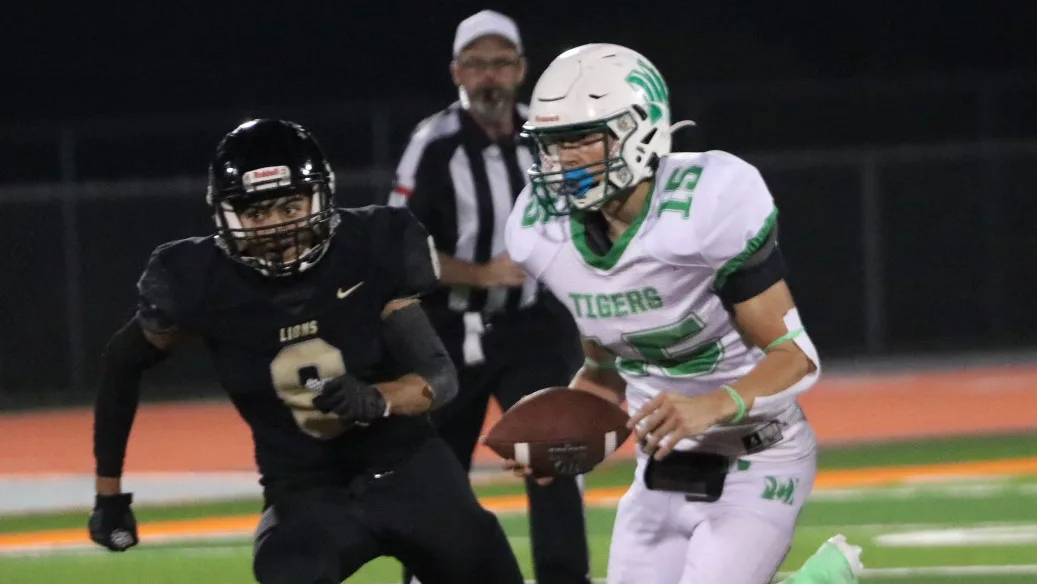 SPRINGTOWN – The May Tigers were able to slow down the most dangerous weapon for the Leverett's Chapel Lions, and advanced to the third round of the playoffs despite playing without their biggest offensive contributor.
The District 14 runner-up Tigers chalked up a 57-12 victory over District 15 champion Leverett's Chapel in the Class A Division I Region IV semifinal round Saturday night, though standout Braden Steele left the game with a knee injury after scoring the first touchdown just 1:26 into the contest.
Steele entered the contest with 1,560 rushing yards and 26 touchdowns to go along with 1,265 passing yards and 21 scoring tosses, but head coach Craig Steele – Braden's father – during his  20-year tenure at May has always utilized multiple offensive weapons for situations like the one that took place Saturday night.
"I told the kids I thought they stepped up and did a really good job," said Coach Steele, who also claimed his 175th career victory Saturday night. "We had a kid playing safety tonight that never has in his life and he got a pick. It's times like this that you really understand what our program is about and it really gets you in the ticker. I was really proud of the way the kids played tonight."
Despite the loss of Steele, the May (9-3) offense still churned out 339 yards of total offense – 265 rushing and 74 passing. Ben Harrell – who started the game in jersey No. 15, but it was torn behind repair which led to him finishing the game as No. 2 – shouldered the bulk of the load with 182 rushing yards and five touchdowns, along with a 50-yard scoring reception.
"A lot our playbook went out the window after that first drive, a lot of the things Braden can do throwing the ball," Coach Steele said. "Ben is actually a really good passer but I haven't asked him to do that since he hurt his shoulder earlier this year. But Ben did a great job running the football tonight and the kids did a great job of blocking."
Mikey Scheriger added 46 yards on the ground and threw the 50-yard touchdown to Harrell, and Cayson Dail completed his lone pass attempt to Jackson Lusk for a 24-yard touchdown. Ryland Billadeau tacked on a 17-yard carry, while Steele finished with 20 yards and a touchdown on just two rushes.
Defensively, May yielded just 183 yards of total offense – 137 passing and 46 rushing – with a pair of takeaways, both by Billadeau who filled in for Steele and intercepted a pass and pounced on a fumble.
In Leverett's Chapel's 81-70 victory over Leakey last week, the Lions (8-3) received 460 yards of total offense and 11 touchdowns from DeMarion Brown – 227 passing yards and four touchdowns and 233 rushing yards and seven more scores.
Against May, Brown generated all of the Lions' yards and both touchdowns, but it was a far cry from the performance that led to Leverett's Chapel's bi-district victory.
"We played outstanding defensively," Coach Steele said. "Holding a kid like DeMarion Brown, who's an outstanding football player and outstanding runner, and that team to 12 points was a fantastic defensive effort for us. We just wanted to keep him behind the line of scrimmage, not over rush, keep him in front of us as much as we could and do a sound job of tackling when he ran, and the kids did that. He broke a few things, but the kids overall did a good job of tackling and Coach (Chad) Dail had a good game plan for him tonight."
The Tigers scored the game's first 22 points, thanks in part to three consecutive onside kicks to start the game, in which two were recovered by May.
Levi McInnis pounced on the first at the Leverett's Chapel 28 to open the game, and three plays later Steele scored on an 18-yard carry – his last of the contest.
Leading 8-0, May tried another onside kick that the Lions recovered, but the Tiger defense forced a four-and-out.
Starting at the Lions' 33, May took just two plays to score as Dail connected with Lusk on the 24-yard scoring toss, boosting the lead to 14-0 at the 5:58 mark of the opening period.
May followed with its third straight onside kick, this one recovered by Scheriger at the Leverett's Chapel 32. Six snaps later, Harrell was in the end zone for the first time on a 16-yard carry, and the Tigers were in complete control, 22-0, with 3:51 left in the first quarter.
"That was extremely important," Coach Steele said of the early onside kicks. "We hoped we could get some onside kicks because we haven't gotten a lot this year. Scouting them, we thought there was a chance we could get some. Coach (Jacob) Brown does our special teams and did a great job of getting them ready."
Leverett's Chapel and May then traded touchdowns over the next four drives.
The Lions scored for the first time on a 23-yard pass from Brown to Trent Wheat, but the Tigers answered with a 5-yard carry from Harrell that made the score 28-6 with 57 seconds remaining in the opening stanza.
Leverett's Chapel crept within 28-12 on Brown's 6-yard touchdown run just 47 seconds into the second period, but again the Tigers responded with a 3-yard scoring run by Harrell, stretching the lead to 36-12 at the 7:07 mark.
The Tigers tacked on one final touchdown before halftime, as Billadeau's interception set up Scheriger's 50-yard scoring toss to Harrell with 51 seconds left in the second quarter, increasing the advantage to 44-12 at the break.
May started the second half with the ball and traveled 60 yards in eight plays before Harrell stormed into the end zone from 14 yards out. A botched extra point attempt still turned into a point as Scheriger found Wyatt Hardy in the end zone to make the score 51-12 at 6:21 of the third.
Billadeau ended Leverett's Chapel's only possession of the second half with a fumble recovery at the Lions 39. Five plays later, with 3:02 left on the third quarter clock, Harrell plowed into the end zone from 8 yards out to enforce the 45-point mercy rule, 57-12.
Next week, the Tigers will face District 14 rival Jonesboro (11-1), a 64-0 winner over Chester Thursday, in the Class A Division I Region IV championship game. The rematch is slated for 5 p.m. Saturday in Dublin, as Jonesboro took the first game and District 14 title, 48-22.
"They're a physical group of boys and we have to be ready for that physicality," Coach Steele said. "Having played them once is a good thing because we understand what we're going to get now. We have to have a good week of prep and really be on our toes."