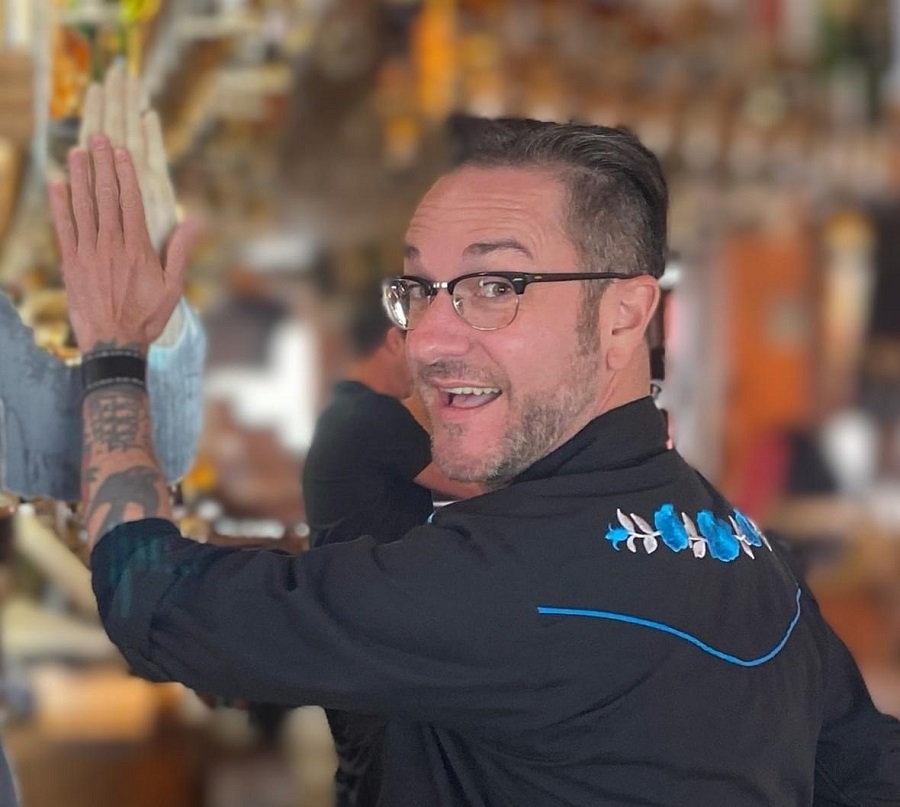 Dustin David Scott made his final exit from the stage of life on July 6, 2022. Sadly, after recovering from addiction, his body finally succumbed to the effects of the disease of alcoholism. He was 41 years of age and lived in Georgetown, Texas. Dustin was born in San Angelo, Texas, on February 25, 1981, to Amy and David Scott.  He leaves behind his parents (Georgetown, Texas) and his two sisters and their families; Misty Scott Adair and John Adair and sons, Ian and Eliot (Georgetown, Texas), Jessica Scott Martin and Jon Martin and children, Billie Louise and Hiram (Chicago, Illinois), and grandfather, Sonny Anderson (Sonora, Texas). He also is survived by his treasured canine companion, Cash.
Dustin graduated from San Angelo Central High School where he performed in the marching band, jazz band and theater. He attended the University of Texas at Austin and had a career in the service industry. His last job was as a bartender at The City Post in Georgetown where he was known for his witty conversation and card magic. Dustin was a lifelong musician playing multiple instruments like trombone, piano and guitar in various bands. His love for magic and apprenticeship with the Fantastic Kent Cummins led him to join and serve as board member with IBM Ring 60, the Austin chapter of the International Brotherhood of Magicians.
Ever a performer, Dustin was well known for his fashion sense and for creating and hosting entertaining trivia games. He had a vast knowledge of random facts, especially when it came to movies. His other hobbies included archery (which he often practiced in a three-piece suit for extra flair) and training his beloved whippet, Cash (aka, The Man in Black). Finally, Dustin was also a member of ACA, Adult Children of Alcoholics, where he served as support and inspiration for others. Though Dustin struggled with darkness in his life, he brought so much light to the lives he touched.
We would like to recognize the friendship and support Dustin received from his work family and many beloved patrons at The City Post. Furthermore, we want to express our appreciation for all the friends in Dustin's life over the last four years of his sobriety who brought him so much happiness and acceptance. We are eternally grateful.
Dustin Scott was preceded in death by his grandparents, J.E. and Billie Scott of Coleman, Texas, and Ganelle Anderson of Sonora, Texas.
Graveside services will be held at Glen Cove Cemetery near Coleman, Texas, on July 31st at 7:30 pm.
A memorial celebration of life will be held at Georgetown Community Center (445 E. Morrow St., Georgetown, TX) on Monday, August 1st, at 7:30 pm with a meet & greet starting at 7:00. Dustin's favorite foods will be served at a reception following the service.
In lieu of flowers, please send donations to HAAM, a non-profit that provides access to affordable healthcare for greater Austin's low-income, working musicians.  Alternately, donations in Dustin's name can be sent to Austin Pets Alive, a shelter providing lifesaving programs for animals at risk. Find more information at www.myhaam.org or www.austinpetsalive.org.
Remembrances and condolences can be written to the family via the virtual guestbook on Dustin's tribute page at www.stevensfuneralhome.com.  Stevens Funeral Home is honored to serve the Scott family.