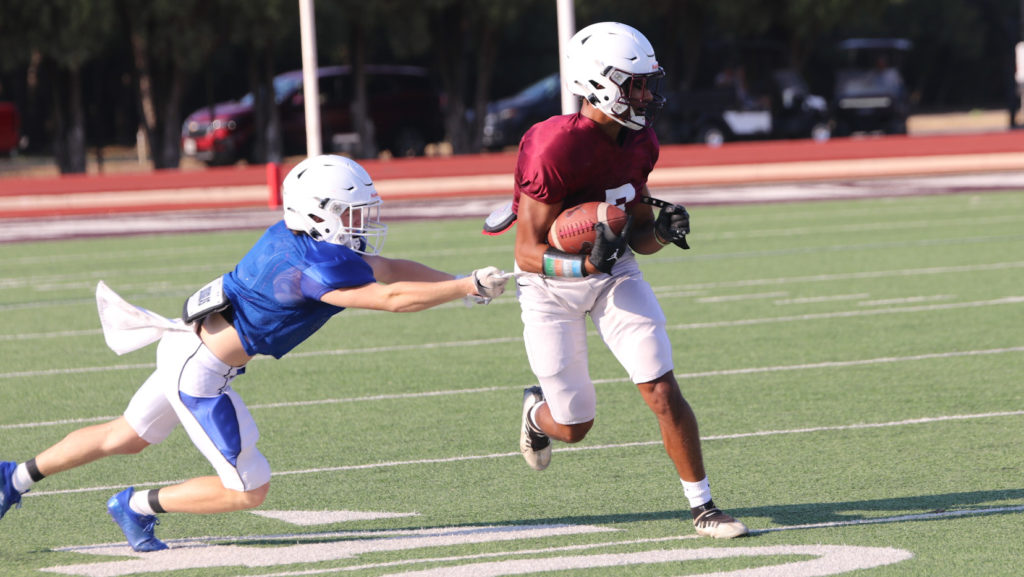 Brownwood fifth-year head coach Sammy Burnett feels the Lions have barely scratched the surface in terms of their potential, but their performance in Friday night's initial scrimmage at Gordon Wood Stadium was good enough to produce a pair of touchdowns while keeping the Decatur Eagles out of the end zone.
"That's a good Region I team, they've done really well in the region the last several years, so we knew it was a great opportunity for us to see where we are," Burnett said. "I thought we controlled (Decatur) on both sides of the ball, but we weren't very good today. The reason I told them that and what I meant by that is we have so much potential and so much capability, we can grow so much more, so don't be satisfied with where you're at."
Each team ran 40 plays as the Lions amassed 318 yards – 197 passing and 121 rushing – and 12 first downs with two trips to the end zone, while Decatur mustered 196 yards – with 109 coming through the air – and nine first downs.
"I was proud of the way our kids came out and played with intensity, a sense of urgency, and as a unit on both sides of the ball," Burnett said. "I thought our defense set the tone early. Decatur has a really good running back, good quarterback and they're good up front. Offensively, we didn't score early on but it was because we stopped ourselves, and we have to fix that."
It appeared Decatur had struck first on a 57-yard touchdown run in which a number of tackles were broken, but the play was negated due to a penalty.
"I think we're flying on defense, we're making plays, but we have to secure some tackles at first contact and not miss," Burnett said.
The Eagles' next chance to score came much later in the contest against the Brownwood reserve defense. Facing and third and then fourth and goal from inside the Lion 1, Decatur was unable to push the ball across the goal line which resulted in the Brownwood sideline erupting in celebration.
"The importance of that is those are guys we call 2s all the time, and I told them when they get tired of being called 2s and they're just other 1s is when they step up and gain the knowledge because we feel they have the ability to play or they wouldn't be at this level," Burnett said. "When they gain the knowledge to play they're going to step on the field and we'll never miss a beat. When they bowed their neck their from inside the 1 and we stopped them there, I thought what was big for their confidence because we need everybody. They need to be able to step in and play any time they're asked."
The defensive stop came after the Lions' first-team offense reached the end zone on their second series, a set of 10 plays. After a 20-yard slant from Ike Hall to Thad Hinds pushed the ball near midfield on the fourth play of the series, the combination connected again two plays later as Hinds made a leaping grab for a 47-yard gain on a post route. Konlyn Anderson capped the drive two snaps later on a 3-yard plunge into the end zone.
Brownwood's second touchdown came on the first snap of its next series of plays, as Hall found Jordyn Nickerson on a short screen pass, and Nickerson broke two tackles and outran the defense 70 yards for a touchdown. The officiating crew whistled the Lions for unsportsmanlike conduct after the play, a penalty that would normally be enforced on the kickoff, but instead was attached to Brownwood's next set of plays.
"When you start any game you're going to be equally yoked," Burnett said. "They're going to be fresh, we're going to be fresh and you're going to pound on each other. By the late second quarter, early third quarter we should be wearing on people where we're starting to gain big chunks of yardage. I think we saw that in the second series as we started gaining bigger chunks and put two scores on the board and started dominating up front with the linemen. We had several big plays, and we have that big play capability when we want it. When we gain more knowledge and upload that playbook, I think we're going to be hard to deal with."
Despite the two touchdowns, the Lions were plagued by penalties and misfires that could have resulted in even more offensive fireworks.
"I think we need to be a machine on offense," Burnett said. "It's early in the year and the offensive linemen are always the latest ones to blossom. They're still buds, but once they start blooming I think they have a chance to be very good. Ike overthrew some balls, we had several wide open touchdowns, and if we'd have caught those it would have been a whole lot different. We probably left four scores out there but it's early, it's our first scrimmage. This was an opportunity to get those butterflies out against someone else and test your wears. We have to take the shots when we can get them and go out and execute them, but we also have to control the ball and move it down the field and dictate our outcome and not let someone else."
At the end of the day, Hall completed 4 of 13 passes for 158 yards with a touchdown with completions of 20, 21, 47 and 70 yards – the last being the scoring toss on a bubble screen to Nickerson. Chance Jones connected on 3 of 5 passes for 39 yards and Case Markham was 0 for 1.
Six Lions caught passes led by Hines with two grabs for 67 yards, Nickerson with the 70-yard score, Morsello Hooker with a 29-yard leaping catch, Xavier Zepada with a 21-yard snag and run, Logan McKibben pulled in a 6-yard reception, and Markham added a 4-yard catch.
On the ground, Anderson rushed for 40 yards and a touchdown on 10 carries, Jaylan Brown chipped in 30 yards on six carries, while Hall and Markham each added 20 yards on four and three rushes, respectively. McKibben also tallied 11 rushing yards on three totes.
The Lions will return to practice at 7 a.m. Monday then scrimmage at Lampasas Thursday. Brownwood's season-opening contest is slated for Friday, Aug. 26 at Gordon Wood Stadium against Class 5A Division II Abilene Wylie.