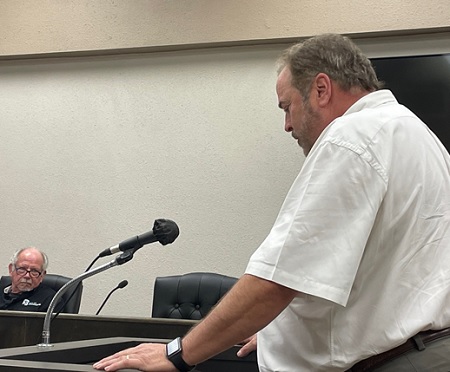 The Brown County Tax Appraisal Office has been downtown at 403 Fisk Avenue for 40 years, but that could be changing.
The Brownwood City Council on Tuesday, March 14, approved a resolution by the Brown County Appraisal District Board of Directors for the purchase, renovation and financing of certain property for an office for the Brown County Appraisal District.
The Council heard from Brett McKibben, Chief Appraiser, (shown addressing the Council), who outlined three reasons why the Appraisal District is seeking to move.
The first is accessibility.  "We have a very high curb there. If you are over 65, you can pay (taxes) quarterly for your homestead.  I have approximately 375 people come to my office four times per year that are either disabled or elderly," McKibben said.
The second reason is parking.  "We pay for the parking behind the building for the employees and we only have four parking places in front of our building that we and Moore Printing share.  There's some across the street and the bank has always allowed people to park there, then they have to step off that curb and cross the street.  When I first got here, we didn't even have a handicap space, so I asked the City to put one on the side by the ramp which you did and I really appreciated that," McKibben said.
The third reason to relocate is more room is needed.  "We've just outgrown that building," McKibben said.  He said the Board has looked at other property downtown but still had parking and accessibility issues.
He went on to mention that a property at 3804 Highway 377 South (AccelHealth building) checks all the boxes as a new location.
"There's plenty of parking and I can put four handicap spaces up front.  There is parking in the back for the employees. Nobody will have to park two or three blocks down in the middle of summer and walk to our office at this location.  This action will not increase your contribution to our budget for the building and the land.  In 2018, the Board of Directors put a line item on our budget that we save that money and that's what we're going to put down and make the payment," McKibben added.
The Appraisal District will ask other taxing entities in Brown County to approve the same resolution to facilitate the move.