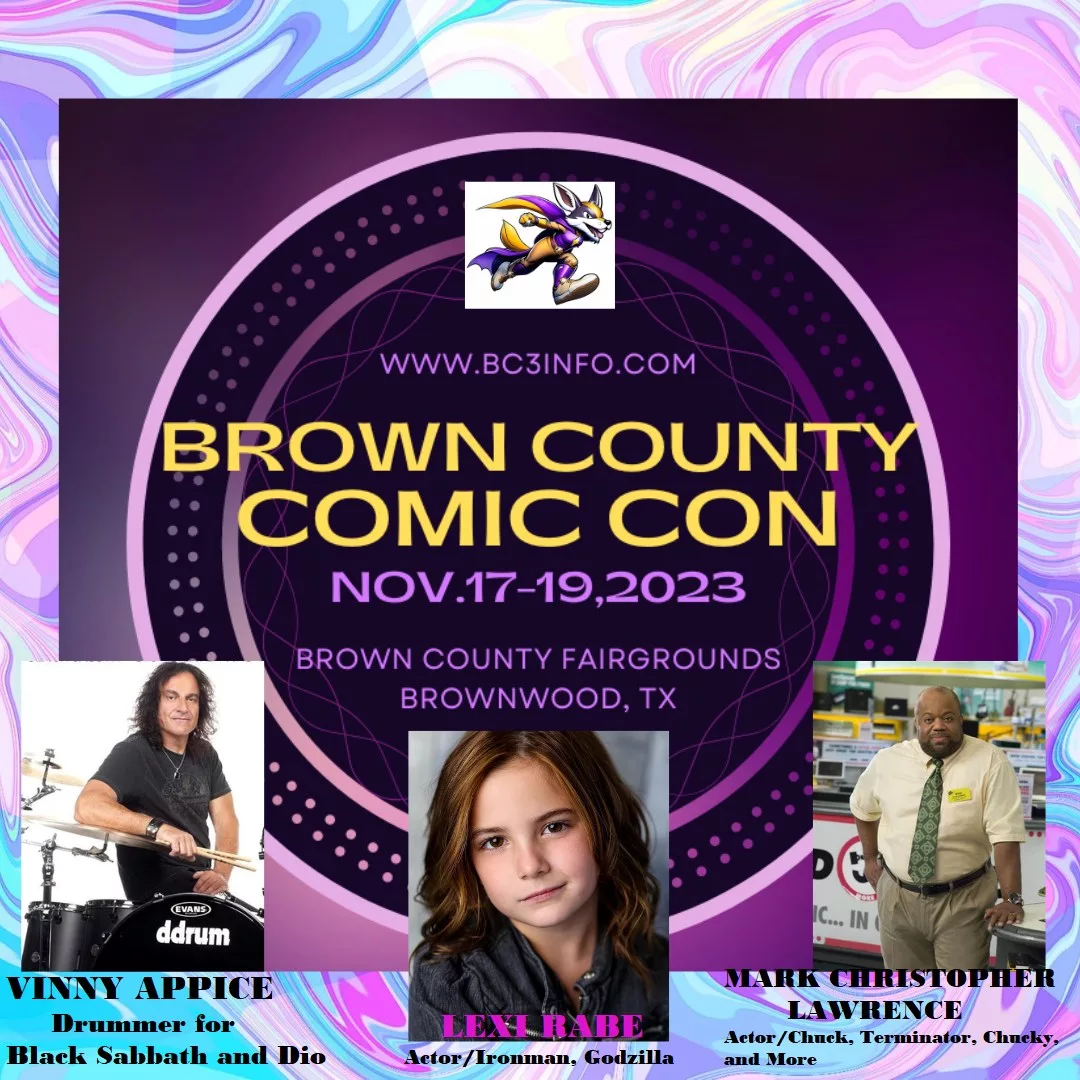 The first-ever Brown County Comic Con is slated to take place this weekend at the Brown County Fairgrounds, located at 4206 US Highway 377 South. The event is scheduled for 3 to 7 p.m. Friday, Nov. 17, 10 a.m. to 7 p.m. Saturday, Nov. 18, and 11 a.m. to 5 p.m. Sunday, Nov. 19.
The wave of superhero-driven blockbuster movies in the early 2000s fueled the expansion of comic cons throughout the country, and now Brownwood joins the mix.
Jackie Mercer and her husband Lynn Caine came up with the idea to bring a comic con to Brown County.
"We put on a few other shows, but my husband grew up here, he's lived here most of his life and he wanted to bring something back here because everything is so far from here," Mercer said. "We decided to give it a shot, and if it goes well we'll try and make it an every year thing for the holidays."
Headlining the event on Saturday will be panels with guest celebrities Lexi Rabe, Mark Christopher Lawrence, and Vinny Appice.
Rabe, who is appearing at 12:30 p.m. Saturday, is an actress/model/singer who appeared as Morgan Stark, Iron Man's daughter, in Avengers: Endgame. She also appeared in Godzilla: King of Monsters and has been a guest star on Star Girl and Silk Road on the CW. Rabe also sings and has multiple songs on Spotify and has modeled for both the New York Fashion Week and Los Angeles Fashion Week.
Lawrence, who is scheduled for 2:30 p.m., is an actor/comedian known for playing "Big Mike" in the TV series Chuck. Lawrence has also appeared in the TV shows Seinfeld, Reba, Heroes, Weeds and My Name Is Earl, along with having parts in the movies Terminator 2, Child's Play 3, Pursuit of Happiness, Planet of the Apes, Garfield and Christmas with the Kranks.
Appice, who will be on site at 4 p.m. Saturday, is a musician/drummer for Black Sabbath and has also performed with Dio, Heaven and Hell and Last in Line.
Tickets for the event are $75 for VIPs, $25 for a weekend pass, $10 for Friday or Sunday, and $20 for Saturday. For kids, ticket prices are $10 for the weekend, $5 for Friday or Sunday, and $8 for Saturday.
Regarding the task of bringing the comic con to Brownwood, Mercer said the biggest difficulty was, "finding the right size building, but the Early Visitors and Events Center was very helpful. We owe a lot to them, they helped us find the spot and helped us set everything up."
Along with the celebrities, there will be plenty of other activities – holiday-themed and not – for patrons to enjoy.
"We have photos with Santa and a toy drive for Toys for Kids," Mercer said. "We have a professional cosplayer who will be dressed like Spider-Man for kids to take free photos with. He'll also do Deadpool and Riddler. We also have a local cosplay young lady who is just starting out and she'll be dressed up as some anime characters. We'll also have movie night in the tent outside, we have photos with sorting hats, and we have a gaming area for board games and card games."
Along with the movie tent outside, there will be mechanical bull riding Friday and bounce houses on Saturday.
Friday's movie will be Naruto, running from 3 to 7 p.m..
Saturday's movies include Christmas with the Kranks at 10 a.m., Avengers: Endgame at noon, and anime films the rest of the day. Sunday's movie will be the Grinch.
Also on Sunday, there will be a kids cosplay contest at 2 p.m. and an adult cosplay contest at 3 p.m.
According to the Brown County Comic Con website, "We bring retro entertainment to local Brown County. A fun place to hang out with fellow fans in the world of comic books, anime, gaming, syfy, fantasy, movies, and more. To get photos with cosplay characters you love. Meet and get autographs from celebrities. Fill the weekend with memories that will last a lifetime. Enjoy the magic that you felt as a kid and share that magic with your children when you get photos with Santa, spiderman, sorting hat from harry potter, and more. Enjoy fun activities like trivia, karaoke, and cosplay contests. Don't forget Christmas shopping. We have vendors with those gifts for everyone."
Mercer added that scheduling the event around the holiday season provides more opportunities for the community to participate in events.
"It gives us more things we can revolve activities around," she said.
For more information, visit https://bc3info.com/